[contextly_auto_sidebar id="fcUsm68cqoCwHl6s0ZHPlhwRCVXW8pyC"]
THERE'S been a lot of bad news for culture and society lately, so I want to offer one of my occasional bits of inspiration. Jazz and blues player Lonnie Johnson is one of the greatest-ever American musicians, and one of the most underrated guitarists in history. His playing predates Robert Johnson and many of the Delta blues masters, and he developed a more polished urban style that to T-Bone Walker and through him to Chuck Berry and B.B. King. He's also got a wonderfully keening and understated voice.
Johnson's duos with 20s jazz guitarist Eddie Lang may be the best two-guitar sessions in history.
Here is a video of "Another Night to Cry"; I think this footage comes from the American Folk Blues Festival that toured Europe in the '60s. He's introduced by the great blues harpist Sonny Boy Williams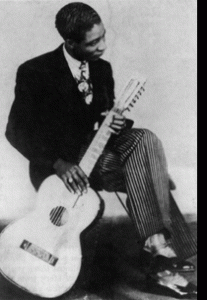 on.