[contextly_auto_sidebar id="vgKZ6xRHRblYrS2DIdm6RSmRakPmvRv4″]
IS it possible that the most characteristic artist of our time could also be almost entirely full of b.s.? From what I can tell, that's exactly what we've got. Over the last week or so I've been underlining lines from Jed Perl's New York Review of Books piece on the art world's Gilded boy, thinking and talking about Perl's argument, without yet posting the piece. "The Cult Jeff Koons" is really worth reading in full — there are subtleties I will not be able to convey here. So I will offer a few bits of the essay with hopes that readers will seek out the whole thing.
One of my main concerns: Does Koons critique or question our society the way substantial artists have? Or does he just amp up its worst qualities and sell it back to us?
Perl sees Koons — a retrospective is currently up at the Whitney in New York —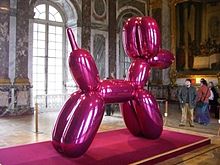 as a kind of smug, cheerful bully, someone whose cheerleaders suggest you have to like or risk being irrelevant, Puritanical, left behind by history, joyless, and so on. Here's what Koons really is:
Koons is a recycler and regurgitator of the obvious, which he proceeds to aggrandize in the most obvious way imaginable, by producing oversized versions of cheap stuff in extremely expensive materials. It is only when he rejects the real in favor of the surreal that the audience's interest begins to cool. In his recent paintings he has created what amount to photorealist collages, with inflatable toys, cartoon characters, classical statuary, and details of a woman's hot-red lips or sexy head of hair layered and juxtaposed to create trippy Pop fantasy visions. These 3-D surrealist dreamscapes, with their echoes of Dalí—Koons cites Dalí as a major early influence on his work—are almost invariably said to be his weakest stuff. The public wants its Koons real rather than surreal. People want their Koons straight up, unadulterated. Koons is here to prove that in our been-there-done-that society metaphor and mystery and magic are dead and gone. It all comes down to familiarity.
And despite the fact that the Koons cult calls him the next step in Dada and an heir to Duchamp, Perl builds a rigorous art-historical argument and comes down this way:
The Koons retrospective is a multimillion-dollar vacuum, but it is also a multimillion-dollar mausoleum in which everything that was ever lively and challenging about avant-gardism and Dada and Duchamp has gone to die… Koons's overblown souvenirs are exactly what Duchamp warned against, a habit-forming drug for the superrich.
Now, much of the reason art-world types champion Koons (and some of these people are my friends, and one of them, Peter Schjeldahl, is one of my favorite critics) is that his work stirs people up so much — offends sensibilities, induces shock — that he must be good. It's sort of the Lady Gaga argument: Elvis offended people, and he was great, Gaga does too — so she's as good as Elvis. Perl puts his finger on this scam, after describing the way Matisse and Nijinsky scandalized audiences:
For the Gilded Age avant-garde, such legendary events have become the model for new marketing opportunities, and there is an assumption that if the public has a very strong negative reaction to something—if a work of art disturbs or annoys or flummoxes some of the public—it most likely is important. Incredibly enough, there are highly intelligent observers who believe that Koons challenges them in more or less the same way that Matisse, Picasso, Nijinsky, and Pollock might once have done.
Readers can probably guess how I come down on this. Perl makes the argument better than I could. But if you're curious how I see Jeff Koons, and the adulation around him, fitting into our larger cultural situation and our current winner-take-all economy accompanying a protracted economic downturn, keep your eye out for my book Culture Crash, due in just a few months from Yale University Press.