[contextly_auto_sidebar id="ftixoeOJRzszHlmMuaxS6xpP6qUMIuEH"]
EAGER for more of the uplifting optimism of the CultureCrash blog? Then you'll love my upcoming book, Culture Crash: The Killing of the Creative Class, which Yale University Press has just formally announced. Here is the press's page.
The book is about a crisis in the arts and culture, one provoked by digital technology, changing social norms, and the continuing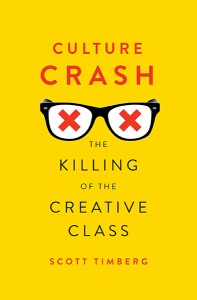 economic slump — one that's hit the creative class very hard. I've sketched some of these subjects out on this blog, also also documented some of it more formally on Salon: The story that offers the clearest picture of what I'm up to in the book is this Salon piece called No Sympathy for the Creative Class.
I look at a wide range folks who work in the arts and culture, from record-store clerks to arts journalists and jazz musicians to architects — to see what their plights have in common. In some ways this is a book of social criticism of the sort Thomas Frank and Barbara Ehrenreich inherited from Daniel Bell and Christopher Lasch. I also try, as George Packer's The Unwinding did, to put a human face on abstract trends. What are the real-world effects of this new world?
Please forgive the shameless plug. But keep your eyes out — the book is on Yale's fall list, which makes it due in … January.
++++++++++++++++++++++++++++++++++++++++++++++
ALSO: Part of what I write about in the book is the way creative work, including journalism, is being de-professionalized and turned, often, into volunteer labor. We're all supposed to do stuff for free because of the "exposure." We see that today in a story in in the Sydney paper that opens with "A request for professional dancers to work for free on a Kylie Minogue video clip has caused an uproar on social media." The story continues:
A number of dancers received a callout from dance schools and agents to join the 11-hour shoot for Minogue's new song I Was Gonna Cancel, produced by US musician Pharrell Williams and choreographed by Sydney Dance Company artistic director Rafael Bonachela, at Melbourne's Docklands Studios on Thursday… Dancers took to social media to complain about the conditions, which alerted Actors Equity to the matter, after which they received verbal confirmation that all dancers would be paid, although the rate had not been confirmed by deadline.
I probably don't have to point out: Minogue is an international pop star who can surely afford to pay the people she employs in an all-day shoot. This is appalling, but increasingly common.
When I spoke to Internet skeptic Janon Lanier last year about his book, Who Owns the Future, he put this in perspective for me:
This is getting back to the informal economy where you're living in the slum or something, so you're desperate to get out so you impress the boss man with your music skills or your basketball skills. And the idea of doing that for the whole of society is not progress… It's taking all the people from the developed world and putting them into a cycle of the developing world…
Increasingly, a lot of the conventions of the 20th century middle class — getting paid for one's work, for instance — are beginning to look like historical anomalies.