[contextly_auto_sidebar id="seaquox9ilXMg837yigc8XqAWK7RXXeJ"]
COLLEGE radio did an enormous amount to power the indie- and alt-rock movements, as well as to create havens on campuses. But is it now being crushed? That's the argument behind a Salon story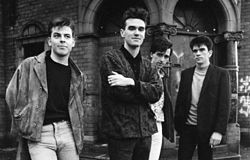 timed to the loss of music programming at Georgia State's WRAS in Atlanta, as "GSU announced an agreement to hand over WRAS's 100,000 watt signal to Georgia Public Broadcasting for 14 hours a day, from 5 a.m. to 7 p.m." Which means: "The student-produced programming that WRAS has broadcast during those hours since 1971 will now be confined to an Internet stream."
A group trying to save the station's student programming has made this video.
College radio stations — at Wesleyan's WESU, Chapel Hill's WXYC, Loyola Marymount's KXLU, and others — have meant a lot to me over the years; they helped make me a zealous music fan. The local programming also helps provide a sense of place.
WRAS was among the first stations to play Outkast, R.E.M., and Indigo Girls. More broadly, great bands like the Smiths and the Pixies were largely ignored by American commercial radio, and found their audience through college stations. It still matters today for both musicians and off-the-mainstream bands.
Before the Internet conquered the world, college radio was the most reliable way to hear new underground music. Seventies punk grew into '80s college rock and '90s indie rock in seclusion at the left end of the FM dial, while the commercial radio stations and mainstream music industry that so smugly dismissed them chased trends and cycled through formats. College radio filled a vital gap, and although it has diminished in the face of 21st century technology, college radio stations are still as valuable as ever.

Beyond letting students gain experience on FM radio or serving as a social club for students who aren't into sports or Greek culture, college radio is still one of the easiest entry points into subcultures ignored by mainstream media. It provides college students and teenagers bored with the pop music that's played everywhere else with a window into a secret and more honest world. It isn't just for the young, though; college radio is for anybody bored by the artless sounds and repetitive playlists of commercial radio.
I don't know the details of the deal at WRAS, and I' a longtime fan of NPR's talk and news programming, which sounds like it will replace the student-run music programming. In Los Angeles, we a lucky enough to have KCRW and KPCC. Do folks in the rest of the country feel this crisis is serious? If so, please weigh in.