[contextly_auto_sidebar id="uIm5M387lh0ylXERBBwGP7PyQjBb5NZx"]
NIGHTMARES on Wax is not a horror movie, but one of the best electronica bands too many people have never heard of. A collage of dub, R&B, and trip hop, mixing recorded beats with live instruments, the British collective headed by George Evelyn is somewhere between '70s Curtis Mayfield and Massive Attack. They've covered a lot of ground over their 25 years.
The group performs in Los Angeles Sunday night at the Fonda Theatre. Evelyn – aka DJ Ease – is also the subject of a new documentary, which you can watch here.
CultureCrash corresponded with Evelyn via email.
Q: You came out of a Leeds scene that most Americans don't know much about; we tend to know the city for the Who album and Gang of Four. What was happening there when you were developing your sound, and how did it shape your early stuff? Did Bristol bands like Massive Attack or Portishead have an influence?
A: My Leeds influence was mainly based around reggae sound systems in the late 70's to early 80's , then when hip hop came to meet in 82 that changed my world , it also tied into the DJ thing, which reggae sound systems had given to me earlier. So growing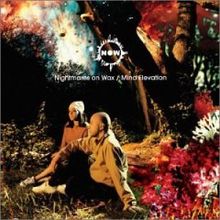 i was into battling, be it Dj ing or break dancing . So through hip hop Djing came my obsession for finding records/cuts/breaks which opened up my horizon to all kinds of music. Through talking with Daddy G from Massive attack we came up through the same background and around the same time DJ wise . so our backgrounds are quite close, Portishead came much later.
Q: You have a song called "70s 80s," about a time when "everybody's head was gettin' shaved or spiked." Was that period musically formative to you?
A: Yes! would i say all my upbringing was musically informative to me , you could not get away from music and it's importance when i was growing up, which is why we wrote 70's 80's.
Q: How did the documentary happen?
A: Warp came up with idea to do it , all i had to do was tell the story , easy !
Q: Your music is a mix of electronic/pre-recorded stuff and live playing. How do you decide which is which, and how do you get the balance right?
A: I'm always searching for the balance in music , my mission is to create the perfect marriage between analogue and digital , the mission continues.
Q:Recent years have been tough on the rock musicians I know, as recording sales have fallen. The electronica universe may be different, and driven more by club and DJ gigs. How has it worked out for you and the musicians you know?
A: I know it's not as easy as it maybe was in the past, but why should you not have to work hard and be pushed in what you do? At the end of the day this is something in love and things are always gonna come along to challenge that, but my love is my love whether i sell records do gigs or not , i will still make music for me . It is a real blessing to be paid anything for something that you love , better still it;s blessing to find something that you love.
Q: What kind of music — new or old — are you listening to with pleasure these days?
A: The album I've been plugging is a artist called Sangdo from Chicago he's gotta  album called Rochina 2 go check it out , also the Acid Mondays who have done a remix on the deep down edition are doing some incredible productions of their own.
peace
Ease