[contextly_auto_sidebar id="ct3qiObIO1GjbjGS8WTsakgdEZd3a77u"]
ONE of the great characters — and great talents — of Southern California, Van Dyke Parks, has experienced a renaissance lately. First known for his work with the Beach Boys and for his pop-baroque Song Cycle, Parks is an ornery Southerner with a big heart, an abiding love for music, and some serious frustrations with recent history.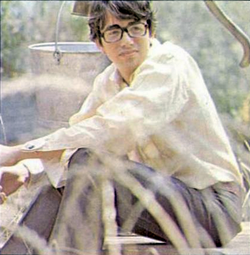 I spoke to Parks recently for a profile for Pasadena magazine, "Psychedelic Gentleman." From my piece:
Parks has described his career arc as moving from "Who's Van Dyke Parks?" to "Get me Van Dyke Parks!" to "Get me a young Van Dyke Parks," and somehow now back to "Who's Van Dyke Parks?"
Parks is being modest here: He's been embraced by a younger generation of musicians, including Rufus Wainwright, Joanna Newsom, and Grizzly Bear. And he continues to release new music — his own strange blend of rock melodies, classical strings, and American folk sensibility. (His latest is Songs Cycled.)
He's also gotten very political in recent years, frustrated with income inequality, the rise of the global plutocracy, and the plight of musicians in the digital age. It was startling to have someone I'd never met reading me lines — so it seemed — for the book I was just finishing.
This is one figure from the '60s from whom fascinating work continues to emerge. The trick with him is that he's such a long story — I did my best to be succinct.