[contextly_auto_sidebar id="NvvIzO2UWJlX4uUIoRf2LjL4Y3FqhcNC"]
TODAY I have an interview in Salon with rock musician John McCrea, who is announcing a group he's helped assemble, Content Creators Coalition. The group, which puts on a free rally tonight in New York that will include David Byrne, aims to bring artists and artisans of all kinds t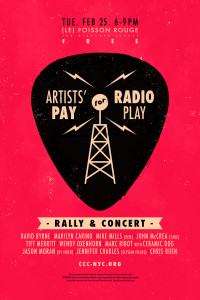 ogether as a way of making the creative life less brutal.
I've been speaking to McCrea over the last year or two as a source for my forthcoming book on the subject, and have found him sharp and credible.
Here's a taste of our conversation. It's worth remembering that digital utopians tell musicians that they can recoup revenues they once earned from recordings by playing live.
And we're all touring a lot more.  And a lot of marriages are breaking up.  People I know whose lives are falling apart because they're touring so much.  But I think we're actually adapting quite well.  The way in which we haven't adapted is to aggregate our power.  There's no band that is big enough to have any kind of negotiating significance against a Google or even a Spotify or a Pandora.  So as much as individuality is a lot of fun, we're going to have to aggregate our interests together and ind significant means of taking action in our own interest.
I very much wish I could go to the concert at Le Poisson Rouge tonight. In any case, you'll be seeing more about McCrea and the CCC in this space.
ALSO: Camper Van Beethoven's David Lowery, whose concerns are similar to McCrea's, helps run a blog called The Trichordist. A recent post of theirs announces: "Camper Van Beethoven's 2013 Net Profit Was $645 Million Dollars Higher Than Twitter." Check it out.
FINALLY: I'll step away from the struggle of musicians in the digital world for just a moment. The Bejing-reared, Berkeley-dwelling writer Yiyun Li has a new novel out called Kinder Than Solitude.
She's a complicated person in the best sense, someone who sees thing in a fresh and original way, and  a nuanced handler of prose and ideas. I've read a lot of Li's work, and interviewed her a couples times. Here's a profile I wrote for the LA Times around her last novel, which I kicked off this way:
In the late 1960s and throughout the 1970s, while the West was immersed in a revolution of personal liberation, China underwent another kind of upheaval, the Cultural Revolution, in which the state clamped down on bourgeois hedonism and targeted even the mildest of dissidents.

This is the setting of "The Vagrants" (Random House: 338 pp., $25), the first novel by Yiyun Li, a Northern California writer regarded for her short stories — a world of rooftop loudspeakers, of Maoist propaganda posters, of a couple charged for the bullet used to execute their renegade daughter. For Western readers, it's as vivid a portrait as they are likely to get outside a Zhang Yimou film.
Eager to see her new one. She's at the Hammer Museum in Los Angeles next Thursday — announcement here.