[contextly_auto_sidebar id="xOdJRgN2pWgbTiyFwQwSUxKpJatgoqCK"]
THESE posts have become fairly grim lately, so I'm pleased to be able to offer some unqualified praise. Eric Dolphy's LP Out to Lunch now marks its 50th anniversary, and the record remains both radical and, I think, oddly accessible. Dolphy is perhaps my favorite avant-garde jazz player. Kevin Whitehead says on NPR:
1964 was a great year for cutting-edge jazz records like 's Spiritual Unity, 's A Love Supreme and 's Point of Departure. But none sounds as far ahead of its time as 's masterpiece Out to Lunch, recorded for Blue Note on Feb. 25, 1964. Half a century later it still sounds crazy in a good way. The organized mayhem starts with Dolphy's tunes, often featuring wide, wide leaps in the melody and ratchet-gear rhythms. His composition "" was inspired by the careful walk of a drunk striving to stay upright. He improvised with that same kind of angular energy, and an excitable tone like a goosed goose.
Out to Lunch offers no shortage of pleasures, including vibes by Bobby Hutcherson and bass by Richard Davis, heard to equally brooding and angular effect on Van Morrison's Astral Weeks. For what it's worth,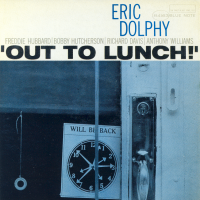 though, it's not my favorite Dolphy recording. He recorded so much despite dying at 36 (of complications from diabetes), including great live dates with John Coltrane and Charles Mingus, Andrew Hill's session Point of Departure, and a major association with trumpeter Booker Little. So it's hard for me to pick one. But I'll just point to his bass clarinet solo playing on "God Bless the Child" from Live in Europe. The flute version of "Hi-Fly" that opens that record is also sublime. (I prefer the lyrical Dolphy to the out Dolphy, I guess, though both are wonderful in their way.)
Dolphy was both someone who tried to reach the limits of his instrument, and to rethink some basics of harmony — bringing some classical modernism into blues-based jazz style. But he did not entirely throw away melody like some outcats did, or destroy harmony completely. I mean no disrespect to these other innovators when I wonder aloud how jazz history might have gone had Dolphy had lived longer and become as influential as Ornette Coleman or Cecil Taylor. I'm afraid a short post like this cannot do justice to the man's range or depth or sheer inventiveness.
My friend Ted Gioia, a jazz critic and music historian, loves Dolphy — he writes about his early years in his wonderful West Coast Jazz — as much as I do. But he's become frustrated with the saxophonist's old label, and writes: "Yes, I'm happy to see Blue Note Records celebrate the 50th anniversary of Eric Dolphy's Out to Lunch, an album they'd never release nowadays."
ALSO: Okay, I know I promised this post was going to be celebration. But the struggles of musicians to get paid for their work has not gotten any better since I announced the CCC's coming out yesterday.
The response of digital utopians to these shifts — the decline of record sales, especially — has been to lecture musicians on the need to "adjust." Cellist Zoe Keating is one who has: She self-releases her music and has 1.2 million Twitter followers. But even she makes almost nothing from the main method by which music is passed around these days, streaming and Youtube videos. More than 400,000 Spotify streams and nearly 2 million Youtube views — numbers most musicians would kill for — brought her, last year, about $3,000. That's better than the services, of course, that pay nothing. Here's the full story from The Guardian.
I'll try to be brighter tomorrow — really, I will!