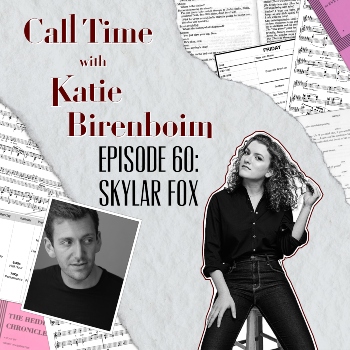 One of the first questions I asked Skylar Fox in our podcast interview was whether he considers himself a "magician." Given that he's the "Illusions and Magic Associate" at Harry Potter and the Cursed Child, US, responsible for the tricks of the eye and effects seen at many of Harry Potter's NINE global companies, like the pollyjuice transformation, the phone booth, or really anything with the wizards' cloaks, this was a totally valid question. But I also thought to ask because I knew that Skylar does much more than illusions and magic onstage. Educated at Brown University, Skylar and his friends had a show at Ars Nova their senior year of college (he describes scheduling meetings with the theatre company on weekends and getting up at "5 am" to take the bus from Providence to New York). After only a year out of school, Skylar, and his co-artistic director and collaborator, Simon Henriques, started their own theatre company, Nightdrive. And it was through this that Skylar wrote, directed, and shepherded many new, experimental plays to the stage, including Providence, RI which premiered at the Tank as well as the group's "pandemic play," The Grown Ups, which they originally performed for ten people at a time in their Greenpoint backyard.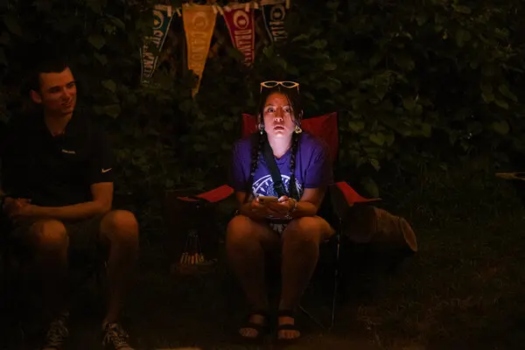 Our conversation had Skylar reflecting on his relationship to and with magic. He described how he became fascinated with it at just four years old, asking his parents for a "street performing license" for his eighth birthday and taping over the HBO show "World's Greatest Magic" to watch it again and again. But he describes how, shortly thereafter, he fell in love with theatre, and, to some extent, rejected his "magical" roots. "If you'd asked me then," he told me. "I would say, I don't do magic. I never do magic; I do theatre."
When Harry Potter came along, however, it was too good to be true. Not only did it represent the opportunity to work on one of the most well-known intellectual properties in the world, on some of the biggest stages with the highest budgets, and with collaborators he had long admired (Skylar talks in our interview about how he had been following the work of Jamie Harrison — who created the original Harry Potter illusions — for years), but it also represented, as he describes it, an opportunity to mend that "wound" and marry his lifelong passion for magic and illusions with his professional work in the theatre. And indeed, Skylar appears to be one of the busiest guys in show business because of all the illusions he's designing for plays and musicals beyond the Harry Potter universe — Fat Ham, for example, which is transferring to the American Airlines theater on Broadway, a new musical at Berkeley Rep called Goddess, and a number of projects about which he couldn't tell me, saying he's "NDAed up" these days.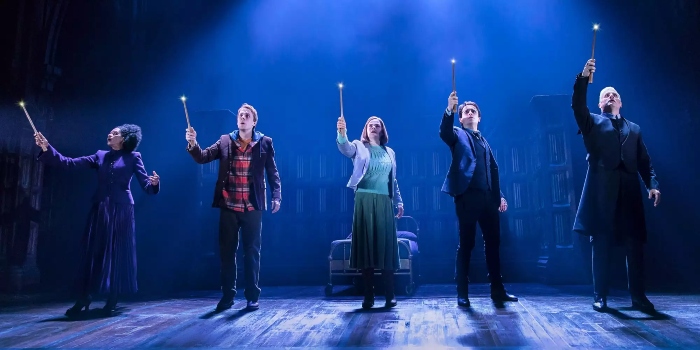 But this discussion about Skylar's career, and whether he's a magician or a theatre maker, or both, and the ways that he's able to marry the two in his professional life, got us onto a really interesting track about magic and theatre in general. You may have thought, before reading this article or listening to the podcast episode, that only a show like Harry Potter would require an "illusions and magic" designer. But, based on everything Skylar is juggling right now, it's clear that magic is more common onstage than you might think. Indeed, Skylar's theatre company, Nightdrive, which describes making "borderline impossible plays that use indelible moments of stagecraft to build thrillingly personal relationships with audiences" seems to circle around the term "magic" without actually naming the word. Throughout our conversation, Skylar repeated the phrase "making the impossible possible," and it led to a deeper conversation about stagecraft and its limitations (or lack thereof). We talked about how some people prefer the camera because of its agility (about which I've written before), but how he sees that as an inherently limiting view of theatre. Throughout our interview, Skylar asserted that you can do "anything" onstage, which seems to be the ethos of his work, from the highly complex illusions in Harry Potter to the immersive, narrative play he put on in his own backyard.
I brought up a tweet about which I keep thinking (also the fact that tweets have become a primary source for cultural exchange and the dread with which that fills me) from Emma Reade Dorfman poking fun at trends in contemporary theatre-making. It reads: "American playwrights be like: There is one pineapple onstage. Over the course of the play, pineapples gradually flood the stage." After laughing about the joke, Skylar and I decided that, while pineapples filling a stage may not always be appropriate dramaturgically, if it fits the moment, he's the kind of theatre maker who would "figure it out."

All of this leads me to the conclusion that stagecraft in general — by virtue of its limitations — is rather "magical." In our discussion, Skylar brought up the fact that people known as "thaumaturgies," or, illusionists, were essential parts of Ancient Greek performance. "Their job was to make impossible things happen at the end of plays to make us believe in the gods," Skylar told me. Historians say that these figures — literally translated as "conjurers" or "prestidigitators" — were present at "any performance which produced…amazement in spectators." M. W. Dickie, a former Classics professor at the University of Chicago, asserted that thaumaturgies were "undoubtedly" part of every theatre performance from the fourth century B.C. on. And indeed, as Skylar and I were thinking, we realized that perhaps almost every theatrical performance, even today, has an element of thaumaturgy. You think about Gypsy Rose Lee's onstage quick changes in Gypsy — not a show that usually credits an "illusionist," but undoubtedly a feat of stagecraft that, within the context of theatre's limitations, makes the impossible possible, and in some ways enhances it, by virtue of those very limitations. You think about the last play or musical you saw with seamless set changes, a product of the tireless work of the director and stage management teams, not necessarily a magic and illusions designer. The team makes, say, a park bench slide on and a kitchen disappear, just as a camera might fadeout or fade in. "You think about the most basic theater you can think of," Skylar purports in our interview. "[And you ask yourself]: how do I cut a full size house in half and stick it on stage? That's magical when you think about it."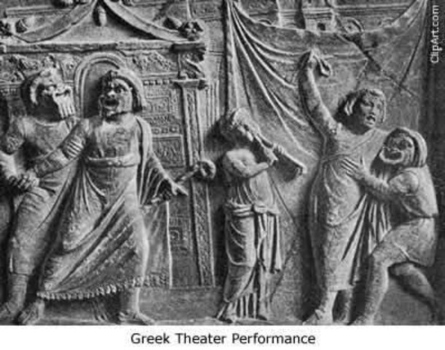 Overall, my conversation with Skylar was amazing because you'll see that he is smart, articulate, and in many ways visionary, but also because it alerted me to, or reminded me of, the fact that the act of performance in and of itself is magical, and has been historically. You are almost always making things happen within the four walls of a blackbox or atop a raised proscenium that purport to happen in other worlds, other dimensions, or even in other people's heads. You try to make these situations as realistic as possible, and, if they're not precisely realistic, you try to make them FEEL like those situations as much as you can. Maybe the stage doesn't look exactly like a subway station, but somehow, through theatre magic, you can make it feel like the essence of the subway — through smell, lighting, or even just smart directing choices, what Gen Z might call "vibes." And no matter what, you're asking a group of people, in real time, to collectively suspend disbelief and go there with you. To meet you halfway. And if that's not an act of thaumaturgy — or "magic" — I don't know what is.
Listen to my whole conversation with Skylar Fox, where we also discuss starting a theatre company, David Blaine, narrative theatre, circus camp, and our respective Hogwarts "houses." As always, please let me know in the comments what you think: do you think theatre is always magical? Can you think of specific moments or shows that felt magical to you?