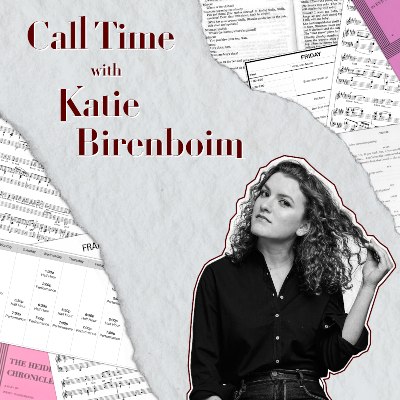 I have adored musical theatre since my grandparents took me to a regional production of Peter Pan at the wee age of three: I loved it so much, I cried at intermission, thinking the experience was over. Ever since then, I've been trying to ensure that the "show [would] go on," for lack of a better phrase. For me, this meant becoming a professional actor. And I think that's true of a lot of performing artists: you think "theatre" or "music," and you automatically think "actor" or "musician."
And so I did all the things: I trained at Interlochen Arts Camp and Manhattan School of Music during high school, I majored in English and Theatre at Princeton University, I worked as an "acting apprentice" at Berkshire Theatre Festival, and, eventually, I signed with agents, earned my equity card, performed regionally, made my Off Broadway debut, and got reviewed by The NY Times. All of these experiences required hard work, passion, and creativity – and the payoff was sweet – but I quickly found myself wanting and wishing for more.
This desire made me uncomfortable: wasn't an actor supposed to be satisfied being an actor? Shouldn't performing eight shows a week, and taking a bow, be enough? Surprisingly, the pandemic – and the forced "time off" that most performing artists experienced in 2020 – helped me to connect with others who were also engaged with these questions. I discovered that my friend who had twice starred on Broadway wanted to start a newsletter for women's personal essays. I met a friend who was recording pop and folk music in addition to her acting career. I spoke with a producer friend who felt that a study of American history was integral to his theatrical career. And finally, I started graduate school, where I met a community of many artists and former artists who were thinking about performance in an entirely holistic way.
And that's where Call Time comes in. I decided that it was time to take these conversations with multi-faceted artists out from behind the curtain: if I was interested in hearing about them, what made them tic, and how they forged interesting and dynamic careers for themselves, I figured others might be as well.
The timing was also fortuitous: the pandemic laid bare many unfortunate realities of the arts industry. As theatre in particular starts to pick up the pieces of the longest shutdown in American history – and tries to sustain performances through a pandemic that still rages and disproportionately affects how our industry works and makes a profit, and address the long overdue industry-wide concerns about equity – it's clear that what was working before is likely not going to work again.
This extends to the commercial and non- profit theatrical business models, the casting and dramaturgical processes, as well as how we think about, and forge, our own, personal careers. It is my belief, for example, that theatre can only survive, and thrive, in this unknown, new world by relying on, and embracing, actors who do more than just act, directors who do more than just direct, producers who do more than just produce, etc. If every aspect of how we make theatre must be rethought – economically, socially, and artistically – the charge must be led by a new generation of artists who aren't bound by traditional labels. Call Time is devoted to these "new age triple threats" – artists actively reshaping the theatrical industry by rethinking their own careers, artistic pursuits, and desires.
As an artist concerned with all of these questions myself, I find that I am able to get particularly personal, as well as cerebral, with my guests: only here can you find Tony-award winning actors talking about their career disappointments, dancers discussing the way body dysmorphia plagues their industry, educators reflecting on the flaws of conservatory culture, as well as directors discussing the evolution of commercial Broadway producing, ballerinas expounding on mathematics, and community engagement officers reflecting on the value of their
law degree. With shows, articles, and more as fresh, multi-faceted, and dynamic as the artists I spotlight, Call Time hopes to shed light on this particular juncture of theatrical history, and how best we can move forward as an artistic community.