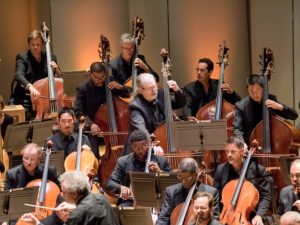 Today, a man elected last November is othering United States citizens, POC in Puerto Rico. We should stand up to that because it's important to call out our outrage—even though he won't be likely to stop.
There are places where we have the power to make a difference—and it's a big miss (at best) when we don't use it.
Like….
We hear all the time that the classical music business doesn't exclude POC, they just aren't 'in the pipeline'.
If we mean what we say about our equity goals, then we gotta work to make them happen. Words and images matter. Does it even look like we are encouraging diversity in the business? Sometimes, not so much.
***
Last summer, while enjoying rehearsals and performances during a short visit at the Aspen Music Festival, I noticed something.
The festival program is full of targeted advertising. It's not so surprising that there are a lot of pricey-real-estate ads. Nor is it suspect to find quite a bit of marketing for music schools. These people know who's in the audience.
But there was something that did surprise me. Scroll through these images from the program and see if you notice it too.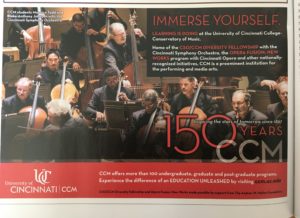 While there are no women in this shot ?…credit to University of Cincinnati's Conservatory for emphasizing the diversity fellowship there and choosing an image to make the point. We want the students we hope to recruit to see people who like themselves in our marketing. 
There are a few other schools showing diversity in the Aspen advertising. But, still, too many that are not.
It's long past time to show we mean it.
Who's responsible for that pipeline, anyway!?