If you and I make a plan to meet for coffee, next Tuesday at 1:00 pm, in a cafe on the second floor of a building downtown, what are we doing exactly? It's easy to say that "we're planning to meet for coffee," but you can't define a term using the term itself. No fair. So, more specifically, you could say that we are stating and confirming a mutual intention to take a particular set of actions in a particular place at a particular time.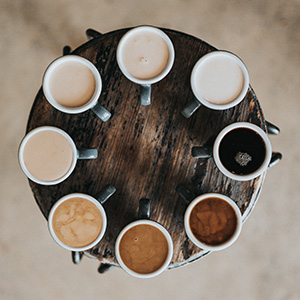 Let's work with that.
With that definition, we have to acknowledge that few of those variables exist right now. The actions won't exist until we take them. The cafe likely exists (as far as we know), but its full coordinates of latitude, longitude, altitude, and time will not exist together until 1:00 pm on Tuesday. Our intention exists, but it may well fizzle, fade, or be forgotten before Tuesday comes.
So, again, we are stating an intention for action. But the realization of that intention depends upon three bits of important business:
Proximity
When the moment comes, we will need to be adjacent to an opportunity to act in the way we intended. That means, in this case, that we're physically near the cafe, but also that the cafe allows and supports our action. It can't have gone out of business. It can't be closed for repair. And if we're being literal about the plan, the cafe's coffee machines need to be working at the time (or we'll have to have tea, which wasn't the plan).
Capacity
Even if the cafe is open, fully operational, still in the same location, and we are adjacent to the building, you and I both need to be capable of taking the actions we planned. If we forget our wallets, if our credit cards are maxed out, if either of us can't climb the stairs to get to the second floor, if either of us are on a no-liquid diet, we can't take the intended action as we had stated it. We lack the capacity to act, even when proximal to potential action. Yes, we can do something else, but that wasn't the plan.
Probability
And finally, even if we're physically present in the fully functioning cafe, and we're fully able to take the actions we originally intended, the actual outcome depends on probability. How likely is it that our intended actions actually happen? Admittedly in this case, it seems highly likely. But it's not entirely guaranteed. Upon seeing me, you could realize that you thought you were meeting a different Andrew. On the trip over, I could have seen a shop or an event that I really preferred, and so now dash away just as you enter. The cafe could suddenly close before we can order. A water pipe could burst. Who knows?
And, of course, mingled across all of this is uncertainty. How confident are we that proximity, capacity, and probability will all favor our plans, and will all align and entangle in ways that work?
Obviously, a simple plan for a set of basic actions doesn't warrant this deconstruction. But just imagine how these factors play out in significant, resource-intensive, time-dependent, skill-contingent, and socially coordinated plans. For example: If you want to present Wagner's Ring Cycle in Boise, Idaho, in January 2025. If you want to build a new facility for your artists and your audience. If you want to get financial resources to artists who aren't already in your system. If your vision for future action, alone or with others, is a million miles from the proximity and capacity currently available to you.
When we plan, we state and agree upon collective intention for future action. The realization of that action will depend on our proximity to an environment that supports or allows it, our capacity to take the action when that environment presents itself, and the probability of our actually taking the action when we get there. Further, the clarity and confidence of our planning depends upon our uncertainty – how reliable our past experience will be in that future moment, how predictable we are and our environment is, and how well we pay attention to the things that matter as we move.
Writer and director Andrew Upton once described theater as a "like wow meta-now" because it happened only in the moment, but it was a moment rich with intention, planning, and craft (Philip Parsons Memorial Lecture, December 2012). He called live theater a "special kind of now" because:
It is a now that has been talked about, planned, and discussed. Designed and lit. A now that has been rehearsed.
And while that's a poetic view of a particular art form, it's entirely true about anything and everything we do. Planning, at the end of the day, is about the moment of future action, the now when it comes. Our plan is a creature of the now that we're in when we make it. And its outcome is contingent upon all the nows in between.
p.s. The entanglement of proximity and capacity is captured by the concept of "affordances," which I explore a bit in the ArtsManaged Field Guide.