As the chaos and confusion of the global pandemic shows distant glimpses of something less chaotic (by Fall, or Winter, or Spring, or…), the question of "strategy" is emerging once again. In the freefall and free-for-all of the past eleven months, arts organizations necessarily spent most available time on survival and rapid innovation. Long looks forward were replaced by week-to-week cash flow projections and a frantic paddle toward solid ground.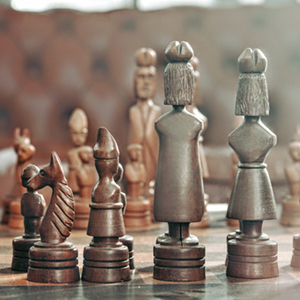 Now that more boards, executive and artistic leaders, staff members, and constituents are making space to imagine the "next normal," it's worth remembering what "strategy" actually is and does.
For many, "strategy" is conceived and defined in the classic, corporate or military frame: "a plan of action or policy designed to achieve a major or overall aim." Forward-looking, intentional, stepwise, aligning resources and actions toward a defined objective.
That is certainly one form of strategy, but there are many more. In Strategy Safari: A Guided Tour through the Wilds of Strategic Management, Mintzberg, Ahlstrand, and Lampel offer five definitions that separately and together capture the many flavors of strategy**.
Each definition begins with the same letter, because alliteration is awesome:
Strategy is a plan: "a direction, a guide or course of action into the future, a path to get from here to there." Intentional, forward-looking, goal directed.
Strategy is a pattern: the emergent results of "consistency in behavior over time." Unintentional, action-derived, unfolding.
Strategy is a position: an intentional presence or purpose in relation to competitors, environment, or context. Market-focused, competition-informed, targeted.
Strategy is a perspective: "an organization's fundamental way of doing things," or what Peter Drucker called the "theory of the business." Culture-based, worldview-derived, baked in.
Strategy is a ploy: "a specific 'maneuver' intended to outwit an opponent or competitor," a "trick," "signal," or "sleight of hand" to block, confuse, or intimidate an opponent. Responsive, performative, expedient.
Each of these definitions is useful and productive in different circumstances. All of them will be necessary for the uncertain and emergent future of organized arts and culture. It will be worth ensuring your organization has the full palette available as you approach your canvas.
---
**The "five ps" in the book are adapted from Henry Mintzberg. 1987. "The Strategy Concept I: Five Ps For Strategy." California Management Review 30 (1): 11–24.