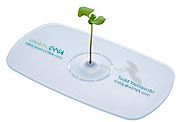 Some very cool ideas from the folks at the IDEO design firm: They've posted a series of conceptual prototypes that rethink the future of the business card as part of their "Identity Card Concept Project." Like good designers, they break the object and the values it conveys into elemental functions, and project how those functions might be served in an emerging world. Among the elements the designs explore:
True Identity – the business card as evidence of who you are, in a world of DNA tests and blood samples (kinda creepy)
Digital Identity – the business card as evidence and support of your digital self
Control – the business card as part of a solution to identity theft and spam, and as a more flexible communication medium
Memory – the business card as a mnemonic device, supporting and sustaining someone's memory of your meeting (or your interactions over time)
Ritual – the business card exchange as an essential ritual of business life
Branding Identity – the business card as a vehicle to create a public brand for your private self.
Some of the designs are bizarre and impractical, others could be printed tomorrow. The point of the exercise is to apply a designer's eye to social trends and values, and to foster a conversation through tangible prototypes. The arts and culture world could use this kind of experimentation — in everything from tickets to programs to (as I've suggested before) the box office.
Thanks to information aesthetics for the link.