For over a year now, I've been stewing on and adapting the independent work of E.F. Schumacher and Ken Wilber (citations below), both of whom explore and explain what a "whole" view of ourselves and our world might look like. As I've unfolded it (literally) for a few groups and close colleagues, it now seems useful to unfold it for all of you for your reactions.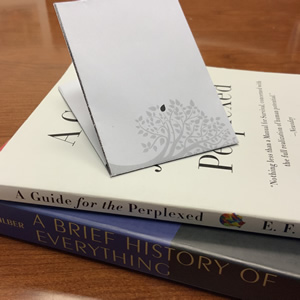 The larger question I've been exploring is how we might observe, describe, know, and grow a more whole-system, whole-human perspective on collective action (that is, organizations or versions thereof). So much of our current language and thinking discards, discounts, or disdains the inner lives within us and around us. This significant blindness seems to be a problem for healthy and coherent cultural enterprise.
Both E.F. Schumacher (in his beautiful final book, A Guide for the Perplexed) and Ken Wilber (in his densely-packed but brilliant A Brief History of Everything) approach some version of this question for different reasons. Below is a video overview of my adaptation of their work (I shuffled the quadrants, added a central image, and jimmied with some other elements of their extraordinary work).
Eager for your feedback – positive, negative, or neutral.