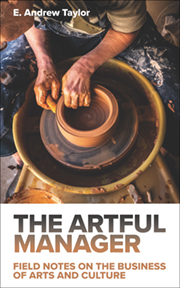 I'm thrilled to announce the publication of The Artful Manager: Field Notes on the Business of Arts and Culture in paperback and eBook formats (Kindle or Apple Book). This book gathers 50 posts from the first 18 years of The Artful Manager blog – edited, updated, complemented with opening quotes, and sorted into three themes (management practice, purpose & value, structure & strategy). Consider these my field notes from a first quarter century of teaching, research, consulting, and discovery in arts management.
Since I launched this blog back in 2003 with the invitation and encouragement from Doug McLennan, I've published just over 1400 posts. These 50 are the ones that stuck with me or kept coming back, that generated the most interest or response, or that captured a key pivot in my thinking, inquiry, or action about this field I love so much.
You can download an excerpt from the print edition (PDF format). Or you can just take the chance and buy the book. Either way, I hope you find insight, intrigue, or just some useful ideas in these pages.