Arts initiatives that seek social change often face an identity crisis: They are driven by passion, purpose, meaning, and making, but they are generally described and evaluated by more traditional measures. Worse than the challenge of a square peg in a round hole, "arts for change" projects aren't pegs at all, but multi-dimensional efforts that defy (or are deflated by) the narrow language of program design: how many people are served, from what demographic, by what logistical process, according to what linear logic model.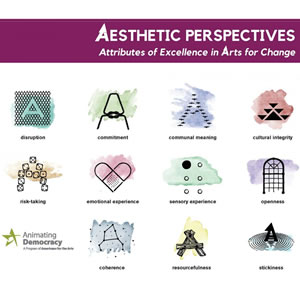 The new "Aesthetic Perspectives" framework from Animating Democracy works to expand that palette.
Developed by the Animating Democracy team at Americans for the Arts, in partnership with artists and their allies (see the Evaluation Learning Lab), "Aesthetic Perspectives" offers 11 attributes to help describe, understand, and evaluate "arts for change" initiatives beyond logistics, mechanics, and practical qualities:
Commitment
Creative processes and products embody conviction to the cause espoused through the work.
Communal Meaning
The creative work facilitates collective meaning that transcends individual perspective and experience.
Disruption
Art challenges what is by exposing what has been hidden, posing new ways of being, and modeling new forms of action.
Cultural Integrity
The creative work demonstrates integrity and ethical use of material with specific cultural origins and context.
Emotional Experience
Arts for Change facilitates a productive movement between "heart space"—the emotional experience that art evokes—and the "head space" of civic or social issues.
Sensory Experience
Vivid sensations deepen the experience of the creative work and heighten the power of its messages and the potential for change.
Risk-taking
The creative work assumes risk by subverting dominant norms, values, narratives, standards, or aesthetics.
Openness
The creative work deepens impact by remaining open, fluid, transparent, subject to influence, and able to hold contradiction.
Resourcefulness
Imaginative use of available resources drives artistic innovation and demonstrates responsible social and environmental practice.
Coherence
Strong ideas expressed with clarity advance both artistic and social purposes.
Stickiness
The creative work achieves sustained resonance, impact, or value.
The framework uses a broad definition of "aesthetics" ("aesthetics is about how creative expression stimulates our senses, moves us, and makes
meaning in the world"), and seeks to broaden it further by acknowledging the historically narrow view of "excellence" and "beauty" in the institutional arts.
To support application and exploration of the framework, the report and website include "companion" essays for artists, educators, evaluators, curators, and funders.
Worth a reading, and also worth a spin on your own initiatives, to see whether and how it advances the work.