In today's
Wall Street Journal
, I review Shakespeare & Company's new outdoor production of
King Lear
, with Christopher Lloyd in the title role. Here's an excerpt.
* * *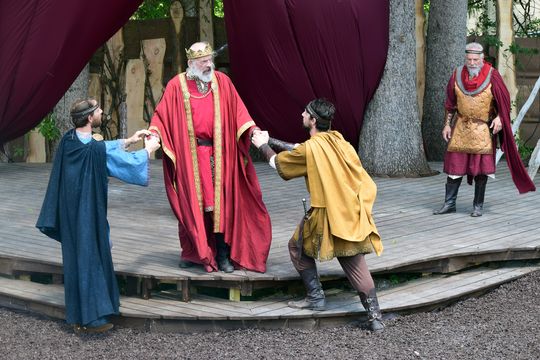 With live theater productions opening throughout America, I gave much thought to how I would break the 16-month fast from public performance that began for me after I saw Katori Hall's "The Hot Wing King" off Broadway in March 2021, mere days before the Covid-19 lockdown. I wanted to review a show as special as the occasion itself, and I didn't have to look long to find it: Shakespeare & Company, located in the Berkshires, Massachussetts' center of summer theater, plus concerts, dance, and the visual arts, has opened its new 500-seat outdoor amphitheater with "King Lear." In it, Christopher Lloyd, who is 82 and is best known, despite his extensive stage credits, for his appearances in such popular films as "Back to the Future," plays for the first time the mad old king. Nor did I choose wrong: This "Lear," directed by Nicole Ricciardi, is one of the strongest productions of Shakespeare's all-encompassing super-drama of man's fate that I've seen in my 18 years as a drama critic….
"Lear" asks so much of its star, especially in the storm scene, that the role is normally played by a much younger man. Mr. Lloyd, to be sure, is no longer able to shake the rafters, for which reason the storm has been dialed back in sonic intensity. But he is still a magnificent performer who effortlessly projects his lines all the way to the back row of the amphitheater…
*  *  *
Read the whole thing
here
.