In today's Wall Street Journal "Sightings" column, I write about how Irving Stone—and Charlton Heston—introduced Michelangelo to a generation of American readers and filmgoers. Here's an excerpt.
* * *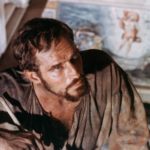 Like Shakespeare and Beethoven, Michelangelo Buonarroti (1475-1564) is one of those giants of Western culture who is known by only one name—and not just to highbrows but pretty much everybody. Even those whose awareness of the visual arts is restricted to the Mona Lisa and "The Last Supper" are more than likely to also know that Michelangelo was the sculptor of "David" and the painter of the Vatican's Sistine Chapel ceiling. That double-barreled fact is the measure of his fame. But how do they know about Michelangelo? And how, for that matter, do they know Hamlet's "To be or not to be" soliloquy or the first movement of Beethoven's Fifth? It's been a long time since you could count on our schools to teach such things, or even to introduce their students to the notion of artistic greatness itself.
For Americans over 50 years old, the answer is a phenomenon called "middlebrow culture" that was fostered by radio, TV, magazines and the movies. From the '30s until well into the '70s, high culture was generally portrayed by the media not dismissively but with unironic respect—and in such a way as to suggest that anyone with a public-school education could enjoy it.
In the case of Michelangelo, it was a novelist who made all the difference….
* * *
Read the whole thing
here
.
The trailer for Carol Reed's 1965 film version of Irving Stone's novel The Agony and the Ecstasy, starring Charlton Heston and Rex Harrison: