In today's
Wall Street Journal
drama column, I review a Rhode Island production of
Macbeth
. Here's an excerpt.
* * *
Even in our present age of proud cultural illiteracy, "Macbeth" has managed to remain ubiquitous. It is, with "Hamlet" and "Romeo and Juliet," one of the three Shakespeare plays whose name is still universally known to people who don't go to the theater, and it gets produced with consistent regularity, with good reason. Not only is it Shakespeare's shortest tragedy, but "Macbeth" is as clear as it is compact, a tale of ambition run rampant whose plot and characters are so firmly rooted in the dark side of human nature as to be archetypical…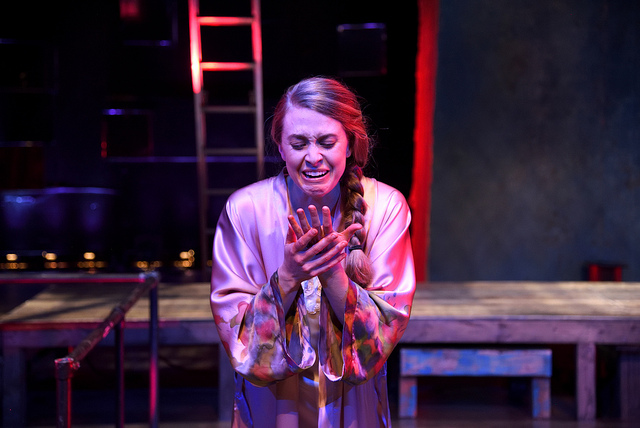 Still, Shakespeare's plays do fluctuate in popularity from season to season. When I read that Trinity Repertory Company was putting on what the press release calls a "contemporary telling" of Shakespeare's so-called "Scottish play" staged by Curt Columbus, the artistic director, I checked my records and was surprised to discover that five years had gone by since I'd last seen "Macbeth." Inspired to make a field trip, I drove up to Rhode Island, where I saw—not at all to my surprise—a very satisfying "Macbeth."
While Mr. Columbus' production is contemporary, it's not conceptual. Shakespeare's text, though trimmed a bit and fitted out with what's-past-is-present trappings—Macbeth is first seen running on a treadmill—has not been obscured by a skein of let's-do-"Macbeth"-in-a-zoo notions that are at least as likely to obscure its meaning as they are to illuminate it….
At least to my eye, Mr. Columbus means for us to see Ms. Atwood's Lady Macbeth as noticeably younger than her hapless spouse (which would explain the treadmill, not to mention his trendy buzzcut). Indeed, Mr. Hantman's deliberately ineffectual Macbeth comes off as a film-noir chump, a natural fall guy who can't help but succumb to the wiles of the blond femme fatale. Ms. Atwood plays her part exceptionally well: Her Lady Macbeth is a doe-eyed millennial in leggings and running shoes—later on she dons a blood-red dress—whose pretty face is a mask that hides her viperine will to power….
* * *
Read the whole thing
here
.