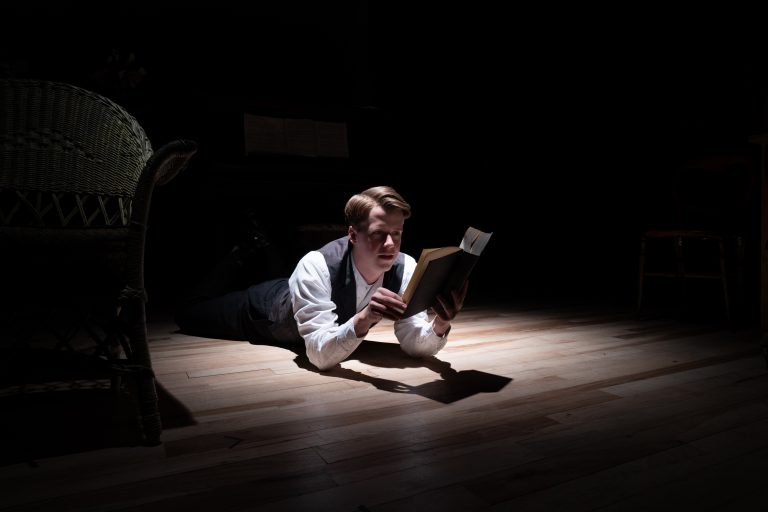 In today's Wall Street Journal drama column, I review a small-scale off-off-Broadway revival of Eugene O'Neill's
Ah, Wilderness!
Here's an excerpt.
* * *
Eugene O'Neill, the dour tragedian of 20th-century American theater, was the least likely of men to have tucked a warm-hearted family comedy in between his bleak tales of life at its direst. Yet "Ah, Wilderness!" hit big on Broadway in 1933, was promptly turned into an equally successful movie and has been a community-theater standby ever since. In addition, it gets done with modest regularity by regional companies that can afford to produce a play that calls for four sets and a 15-person cast. But it hasn't been seen on Broadway since Lincoln Center Theater's 1998 revival, and there haven't been any off-Broadway stagings since then, either….
For that reason, I headed downtown last week to catch a production that is being jointly mounted in a black-box performance space by two off-off-Broadway troupes, Blackfriars Repertory Theatre and the Storm Theatre Company. I've never seen "Ah, Wilderness!" done on a small scale, and this production, staged by Peter Dobbins on a set that consists of little more than a few nondescript pieces of furniture, definitely qualifies. Given a competent cast, such a presentation will be powerfully indicative of a play's inherent quality: If it comes off, it's the real thing.
I'm pleased to report, then, that "Ah, Wilderness!" passes the no-budget test with plenty of spare room. While Mr. Dobbins' cast is somewhat uneven in quality, most of the actors are quite good, and two of them, Renée Petrofes and Ken Trammell, are exceptional. As for Mr. Dobbins' staging, it's as uncomplicated as the décor: no interpretative agendas, no smart trickery, just a straightforward rendering of the play itself, which is allowed to work its quaint magic without benefit of special directorial pleading….
* * *
Read the whole thing
here
.
A Hallmark Hall of Fame telecast of Ah, Wilderness! Originally telecast by NBC on April 28, 1959, this abridged version of the stage play was adapted for the screen by Robert Hartung and directed by Robert Mulligan. The cast includes Lloyd Nolan, Helen Hayes, and Burgess Meredith: