In today's Wall Street Journal drama column I review the off-Broadway premiere of Fire and Air, a new play by Terrence McNally. Here's an excerpt.
* * *
Within the small world of ballet, Sergei Diaghilev, who died in 1929, was and is a giant. Outside it, though, he is less well remembered, if only because there is no simple way to explain what he did and why it still matters. The founder of the Ballets Russes, the most influential company in the history of dance, Diaghilev on paper was nothing more than an impresario—a producer, if you like. He couldn't dance a step, much less choreograph a ballet. Yet it was because of him that "The Rite of Spring" came into being and Igor Stravinsky, then an obscure young Russian composer, emerged as a central figure in 20th-century music. Diaghilev made Vaslav Nijinsky a star dancer and George Balanchine a major choreographer, commissioned sets from Picasso and Matisse and musical scores from Debussy, Prokofiev and Ravel, and did more than anyone else to introduce European audiences to the modern movement in art.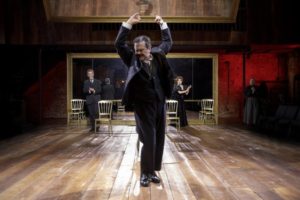 Such a man could scarcely have been anything other than interesting in private life, and Diaghilev's more-or-less open homosexuality and fabulously flamboyant personality made him a journalist's dream. Not surprisingly, several attempts have been made to put him on stage and screen, the latest of which, Terrence McNally's "Fire and Air," in which Douglas Hodge plays Diaghilev, is the work of a playwright who has previously written on numerous occasions about the equally extravagant world of grand opera. Having given us a successful play about Maria Callas, Mr. McNally would seem as likely as anyone to be able to make theatrical sense out of Diaghilev. Yet "Fire and Air," despite the strong staging of John Doyle and a spare but visually effective production by his Classic Stage Company, is brought low by most of the usual mistakes to which biographical plays are heir. Fact-heavy and stodgily undramatic, it feels for the most part more like a well-meaning TV documentary than a full-fledged play, on top of which it suffers from a devastating piece of miscasting.
"Fire and Air" is the kind of history play in which most of the dialogue conveys factual information instead of illuminating personality or propelling the rudimentary plot….
Mr. Hodge is best known in New York for having played Albin in the 2010 Broadway revival of "La Cage aux Folles." That will give you some idea of his approach to the role, which seems to be based on the assumption that Sergei Diaghilev was a dead ringer for Nathan Lane. His Diaghilev is small, whiny and about as Slavic as Russian dressing…
* * *
Read the whole thing here.
Rudolf Nureyev and the Joffrey Ballet perform Vaslav Nijinsky's L'après midi d'un faune, made for the Ballets Russes in 1912 and set to the msuic of Debussy. The décor is by Léon Bakst: