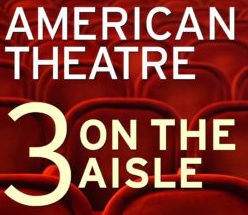 The latest episode of Three on the Aisle, the podcast in which Peter Marks, Elisabeth Vincentelli, and I talk about theater in America, is now available on line for listening or downloading. It's our first bimonthly podcast—we'd previously been doing just one a month—and we're all pleased with the results.
In this episode, Peter, Elisabeth, and I interview playwright Lauren Gunderson, the most-produced playwright of the 2017-18 season. Says the Three on the Aisle web page:
"What most excites me," says Gunderson, "is thinking that my work has relevance in so many places!" Alas, comparatively few of her scripts have been produced in the New York area, so the Three on the Aisle panel decided to find out what they'd been missing. Among other things, Gunderson talks about how she started out as an actor, realized that "acting is damn hard" and that playwrights don't have to be dead to get produced, and promptly started writing for the stage. (One big surprise: She's that rarity of rarities, a full-time playwright without a day job.)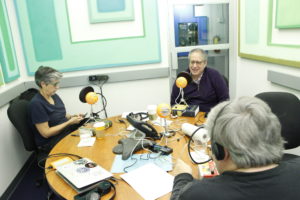 In the second segment, we discuss the phenomenon of the resident acting company, which seemed not long ago to be headed for extinction but has been experiencing a resurgence of interest in recent seasons. Then, as usual, we wrap things up with a podcast-ending segment in which each of us talks about shows that we've either seen and liked (we didn't discuss any stinkers this time around!) or are looking forward to seeing.
To listen, download the sixth episode, or subscribe to Three on the Aisle, go here.
In case you missed any of the first five episodes, you'll find them all here.