In today's Wall Street Journal I review the U.S. premiere of Hangmen, Martin McDonagh's most recent play. Here's an excerpt.
* * *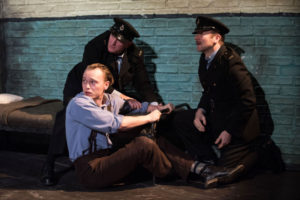 Talk about lucky: "Hangmen," Martin McDonagh's latest play, has opened off Broadway at the Atlantic Theater Company at the same moment that "Three Billboards Outside Ebbing, Missouri," his latest film, is stirring up heated Oscar talk. But unlike "Three Billboards," which is peppered with grotesque humor but whose tone is not essentially comic, "Hangmen" is a galvanizingly black farce about a subject—capital punishment—that few view as a laughing matter. Such is Mr. McDonagh's way: He is never more serious than when playing the clown, and "Hangmen" is a deadly serious play that is also (forgive me) chokingly funny. In this respect it recalls Joe Orton's "Entertaining Mr. Sloane," the difference being that Mr. Orton's first audiences were far more shockable. Back in 1965, "Sloane" closed on Broadway after just 13 performances. "Hangmen," by contrast, is selling out every show, and I expect it would continue to do so were this glitteringly well-staged version, a remount of the play's 2015 London premiere, to move uptown to a Broadway house—as it absolutely should.
Like much of Mr. McDonagh's other work, "Three Billboards" very much included, "Hangmen" is both a snapshot of provincial life at its most claustrophobic and a secular parable about the corrupting effects of vengefulness on the human soul….
"Hangmen," like "Three Billboards," scrupulously avoids in-your-face point-making, demanding instead that the audience connect the dots without prompting and insisting on a moral ambiguity that will doubtless discomfit viewers who prefer always to know exactly who's wearing the black hat and who the white. That's the idea: Mr. McDonagh wants you to think, and it is his genius to do so by first making you laugh yourself silly….
* * *
Read the whole thing here.
The trailer for the HD theatrical telecast of the original London production of Hangmen: