In today's Wall Street Journal I review a rare and important regional revival, the Peterborough Players' production of J.M. Barrie's The Admirable Crichton. Here's an excerpt.
* * *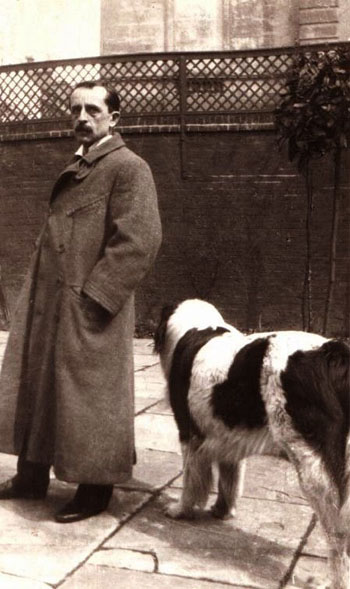 When the spotlight goes out on theatrical fame, it leaves behind impenetrable darkness. A century ago J.M. Barrie was as well known as George Bernard Shaw or Henrik Ibsen. Today "Peter Pan" is the only one of his many plays that continues to be performed in this country, and most Americans think that Jerome Robbins wrote it. Were it not for Mr. Robbins' much-loved musical-comedy version of the 1904 stage fantasy about a plucky boy who refused to grow up, Barrie would be nothing more than a footnote to the history of Vicwardian theater. Might he be due for a second look? Gus Kaikkonen, the artistic director of the Peterborough Players, thinks so, for his company is currently performing "The Admirable Crichton," a once-famous Barrie comedy that disappeared from the American stage decades ago–and judging by Mr. Kaikkonen's brilliantly effective production, it's a not-so-minor masterpiece…
First performed in London in 1902, "The Admirable Crichton" is the story of an upper-class London family whose eccentric but well-meaning patriarch, Lord Henry Lasenby, the Earl of Loam (Michael Page), subscribes to the Rousseauvian notion that "our divisions into classes are artificial" and that "if we were to return to nature, which is the aspiration of my life, all would be equal." Not so Crichton (Tom Frey), his omnicompetent, ultra-conservative butler, who believes no less devoutly that the English class system is "the natural outcome of a civilized society. There must always be a master and servants in all civilized communities…for it is natural, and whatever is natural is right."
Both men's convictions are put to the test when the Lasenbys are shipwrecked on a deserted island. No sooner do they prove preposterously incapable of fending for themselves than Crichton, who has hitherto treated his employers with impeccable deference, assumes his natural status as a leader of men and becomes the island's benevolent but iron-willed dictator….
All this is, of course, the stuff of sky-high comedy, and Barrie rings the comic changes on his promising theme with satisfying skill. The first half of "The Admirable Crichton," in fact, is as witty and fresh as anything that Oscar Wilde ever wrote–and the second half, in which the Lasenbys are rescued by a passing ship and Crichton returns to his status as a servant, is even better. What started out as a fluffy backstairs farce effortlessly changes key and becomes a dead-serious comedy about how the English class system stunts the emotions of all who subscribe to its soul-deadening tenets….
I've praised Mr. Kaikkonen often in this space, both for his Peterborough Players productions and for his work with New York's Mint Theater. His uncluttered, untricky stagings never fail to give value for money, and this one is no exception. It deserves to be remounted in Manhattan…
* * *
Read the whole thing here.