In my "Sightings" column for today's Wall Street Journal I pay tribute to two famous pieces of incidental music. Here's an excerpt.
* * *
"A melody is heard, played upon a flute. It is small and fine, telling of grass and trees and the horizon. The curtain rises." Those are the first lines of Arthur Miller's "Death of a Salesman." Have you ever read a more evocative cue for music? You wouldn't think that Mr. Miller's notoriously tinny ear was that good–and you'd be right. He penned that sentence after he heard the music that Alex North composed for the play's original Broadway production, and was so struck by what he heard that he wrote it into the script….
Nowadays it's unusual for a straight play, whether on Broadway or elsewhere, to make use of incidental music for any purpose other than signaling to noisy audiences that the curtain is about to go up. But well into the Fifties and after, American playwrights and the composers who collaborated with them frequently employed music in much the same way that it is used in movies. As the film composer Bernard Herrmann wrote, "Music on the screen can seek out and intensify the inner thoughts of the characters….It often lifts mere dialogue into the realm of poetry." It can also do that on the stage–as it does in "Death of a Salesman," whose limpid, graceful score makes more out of Mr. Miller's words than he put there in the first place.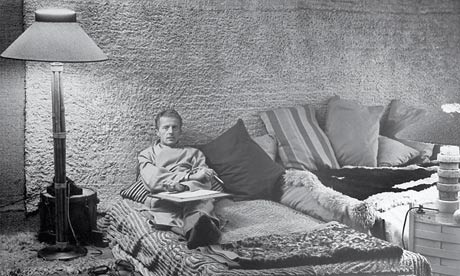 Music is even more central to "The Glass Menagerie," Tennessee Williams' first stage success, which was scored by Paul Bowles in three days for a flat fee of $50. I doubt that so small a sum has ever been spent to better effect by a producer. A minute after the curtain goes up, Tom Wingfield, the narrator, speaks these words: "The play is memory. Being a memory play, it is dimly lighted, it is sentimental, it is not realistic. In memory everything seems to happen to music." Underneath his speech you hear a distant, delicate musical phrase that sounds as fragile as spun sugar. Variations on this phrase are heard at key moments throughout the play, usually in connection with the collection of glass animals owned by Laura, Tom's shy sister, who fears life and lives in a world of dreams….
Mr. Bowles' score is still heard from time to time in modern productions of the play, while Mike Nichols made memorable use of Mr. North's "Death of a Salesman" music in his recent Broadway revival. But if you want to acquire the best possible understanding of how these scores work, you need to hear them up close–and now you can. Both have been released as mp3 "albums" that can be downloaded from Amazon, iTunes and other web-based music dealers. The "Death of a Salesman" score was recorded by the four musicians who played it on Broadway in 1949, while Mr. Bowles' music for "The Glass Menagerie" was used in a studio recording that was made for Caedmon in 1964 by Montgomery Clift, Julie Harris, Jessica Tandy and David Wayne….
* * *
Read the whole thing here.