"Wherever I found decency and humanity in the world, it reminded me of America." That this observation – recorded by Kurt Weill in 1947 – rings hollow in 2017 does not diminish the fascination and pertinence of Weill's extraordinary creative saga, perhaps the most elusive charted by any major composer.
In Berlin, Weill's caustic signature was The Threepenny Opera, created with Bertolt Brecht in 1928. Seven years later he landed in the US, a Jewish refugee from Hitler's Germany. During the fifteen years of his American career – he died of a heart attack in 1950, age 50 – not a single one of his European stage works was given a professional American production. He had instead become a leading Broadway composer whose two smash hits were Lady in the Dark and One Touch of Venus. He had also become a patriotic American who told Time Magazine: "Americans seem to be ashamed to appreciate things here. I'm not."
Weill's European/American odyssey was explored in copious detail during this summer's Brevard Music Festival. Not the least exceptional component of this festival-with-a festival was Brevard's inquisitive audience. "Was Weill Panglossian?" Bob Wilkinson, a retired airplane pilot who came to everything, wanted to know. The response – during a two-day Kurt Weill symposium – led to the Red Scare and the conjecture that, had he lived a few more years, Weill might have been subpoenaed by Joseph McCarthy and asked a few questions. Could Weill have reconsidered the popular American audience he had courted, as did Aaron Copland? We will never know.
The Brevard festival incorporated ten events over a period of five weeks. Audiences could compare The Seven Deadly Sins, which Weill considered his finest achievement as of 1933, with Street Scene, the 1947 Broadway opera he believed would be his most important legacy. There was a full program of obscure "early Weill." An evening juxtaposing Weill and Arnold Schoenberg presented antithetical musical responses to Pearl Harbor. A generous sampling of Weill's Broadway fare was one of two events incorporating a continuous visual track. The other was a "cabaret" – "Change the World, It Needs It!" – exploring the tangled relationship between Weill, Brecht, and Marc Blitzstein, all of whom pursued art as an instrument of social or political change. "Change the World" ignited a one-hour post-concert discussion; one respondent called it "a call to action."
The Brevard Weill festival was both an act of advocacy supported by the Kurt Weill Foundation, and an adventure in contextualized programing  supported by the National Endowment of the Humanities' Music Unwound project (of which I'm the director). Concurrently this summer, the New Hampshire Music Festival presented a Music Unwound "Copland and Mexico" festival – another look at music and politics. Both the Brevard and New Hampshire festival audiences are weighted with retirees from the big city – which is to say, people of a certain age who grew up reading books and now have plenty of time to pursue their cultural interests. I was left with an uneasy feeling that the older the audience, the better.
The performers at Brevard included two supreme singing actors – Lisa Vroman, who brought down the house with The Seven Deadly Sins, and Bill Sharp, who brought down the house (I kid you not) with Schoenberg's 12-tone Ode to Napoleon, which musically rages at Hitler as only Schoenberg could. The festival also boasts three orchestras, a world-class artistic director (Keith Lockhart), a fearless artistic administrator (Jason Posnock), and a ridiculously accomplished student opera company.
Weill's Broadway opera Street Scene, with a cast of 50 (I include Mrs. Jones's dog), was the festival climax. This day-in-the-life of a 1920s Manhattan apartment block depicts the American Melting Pot and probes the American Dream. It originated as a 1929, Pulitzer-Prize winning play of the same title by Elmer Rice – a view from the left of fraught aspiration and frustration. In 1947, the national mood was sunnier, and Street Scene the opera – for which Rice and Weill were joined by Langston Hughes – acquires a subliminal New World glow notwithstanding the hard lives under review. It retains topicality but the topics have shifted. There was a chill in the house when Frank Maurrant, a stagehand discomfited by the immigrant melee, sang his aria "Let things be like they always was. That's good enough for me!"
Dean Anthony, who heads Brevard's Janiac Opera Company, was once a widely experienced comprimario tenor – which is to say that (unlike some others one could name) he's an opera director who is both theatrically and musically literate. He also happens to have participated (as Mr. Buchanan) in the best-known of all Street Scene revivals – the one directed in Berlin (and elsewhere) by Francesca Zambello. As amazing as I've found Dean's work with Brevard student vocalists in previous summers, directing Weill he has surpassed himself.
The excellence of the Brevard Street Scene began with a stunning physical production, designed and built in-house (top of this blog).
As most of the characters in the drama are ethnic types, they easily become cartoons. And yet they must register quickly and vividly to clinch the neighborhood's melting-pot diversity. The Brevard production flawlessly negotiated this fine line. Each participant was accorded a repertoire of detailed gesture and expression. But the result was not glib or shallow.
The staging of Sam Kaplan's arioso "Lonely House," in some ways a theme-song for the opera, encapsulated the ingenuity of the whole. Sam, who dreams of law school and other bigger things, is confiding  frustration and estrangement. His song ends as hopelessly as it began: "I'm lonely in this lonely house/in this lonely town." In the Brevard production, Sam (Taylor Rawley) is leaning on a lamp post.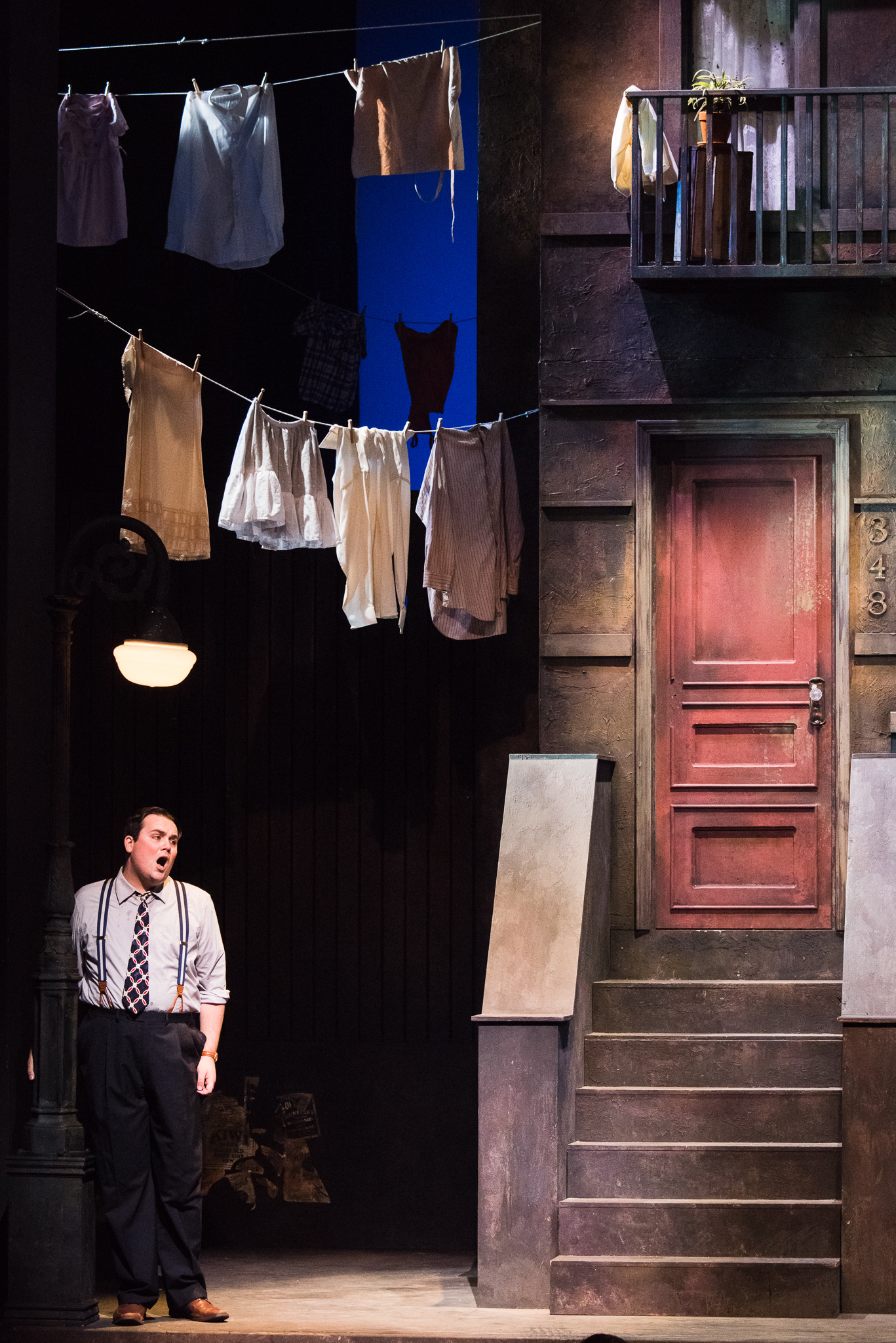 Dean has him take a breath after "lonely" and sticks a fermata (a hold) on "town." Sam turns from the audience and sustains a diminuendo on this long E-flat as he walks slowly out of the lamp's sad pool of light and disappears into darkness. Had he remained in place for applause, the poignancy of the moment could only diminish. And the transition to the next episode – a "scene and song" in another key entirely – could only jar.
(Opera is an integrated artform. Here and elsewhere, Dean worked hand-in-glove with his superb conductor, Robert Moody.)
I also had occasion to watch Dean Anthony coach "Glitter and Be Gay," the coloratura showpiece from Leonard Bernstein's Candide. This was part of a daily opera workshop he calls "movement." Vocal and dramatic insights are seamlessly wed. As Bernstein's inebriated Cunegonde, collapsed into the crook of a piano, Dean was both hilarious and true; he topped and transcended camp. He directs Candide at Brevard next summer as part of a Bernstein Centenary celebration that will also broach the Red Scare, Young People's Concerts, and sundry other topics. This festival will not be NEH-supported. Rather, it documents the longterm impact of Music Unwound at Brevard. In the wake of last summer's Music Unwound "Dvorak and America" festival, and this summer's Weill activities, Brevard has become the only major American summer music festival/training institute to embrace humanities-infused pedagogy and programming: thematic immersion experiences.
Meanwhile, Music Unwound will take "Kurt Weill's America" to El Paso via the El Paso Symphony and the University of Texas at El Paso; to Sioux Falls via the South Dakota Symphony; to Raleigh and Chapel Hill via the North Carolina Symphony and UNC; and to Buffalo via the Buffalo Philharmonic. I have no doubt that Weill's saga of immigration and assimilation will prove freshly pertinent many times over.
(Photos by Bobby Bradley)