Everyone has been very worried about the state of cultural heritage properties in Syria during this civil war. There have been irregular reports but they all suggest that Old Aleppo, the Krak des Chevaliers, many medieval Christian cemeteries and dozens of archaeological sites and museums have been damaged — or, as a new release from an organization trying to do something put it, "subjected to extensive raiding and looting."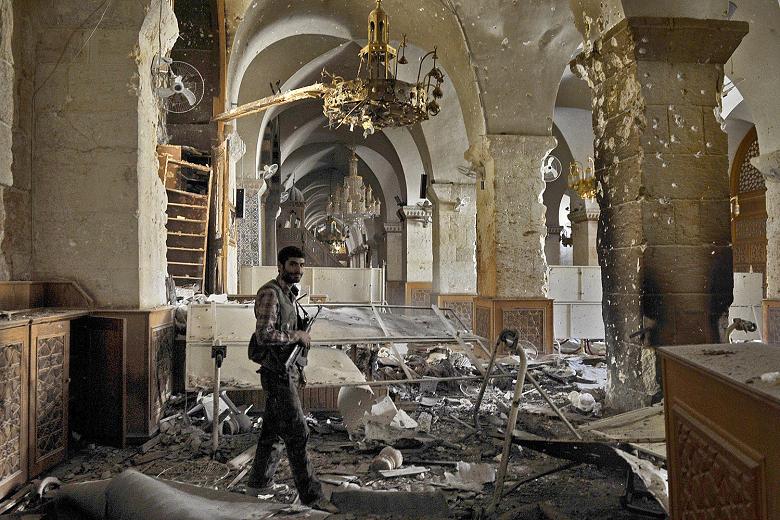 In late June, the Penn Museum's Penn Cultural Heritage Center in Philadelphia and the Smithsonian Institution, along with the Syrian Interim Government's newly formed Heritage Task Force, sponsored a three-day training program called "Emergency Care for Syrian Museum Collections," for museum curators, heritage experts, and civilians working to protect cultural heritage inside Syria.
The release noted that "additional training programs are being planned, pending funding."
There's been a lot of hand-wringing about Syria (see here, here, here and here). In that last post, in April, I quoted a curator named Ammar Kannawi saying that Syria needed "technical support and expertise from Western experts who helped in previous conflicts." Now perhaps they are starting to get it — but they need more expertise. The Penn Museum release quotes  Brian Daniels, Ph.D., Director of Research and Programs at its Penn Cultural Heritage Center, saying:
While it is very difficult for international heritage organizations to travel into Syria today, there are a number of Syrians who regularly risk their lives to protect their cultural heritage. This workshop and other efforts going forward are designed to support these individuals and their efforts.
But our experts, with luck, aren't risking their lives. The training was held in an undisclosed location outside of Syria, and about 20 Syrians attended. The release continued:
The objectives of the workshop were three-fold: to offer information on how to secure museum collections safely during emergencies; to provide participants with basic supplies for packing and securing museum collections, and to begin a dialogue among Syrian participants about emergency responses. "This workshop fits the model of heritage preservation promoted by the Penn Cultural Heritage Center," said Richard M. Leventhal, the Center's Executive Director. "Local communities are best equipped to identify heritage in need of preservation and protection, and this is precisely what is happening in Syria. We are pleased to work alongside communities in Syria and other places around the world to support these efforts."

Conditions at the Ma'arra Museum in Idlib province, famous for its collections of Byzantine mosaics, were a subject of much discussion and concern. The museum has received collateral damage in the fighting and come under direct attack by ISIS units. The workshop was able to offer some suggestions for stabilization in the current situation and provide emergency conservation supplies.
This, though, was a first step, as Penn said. The parties are planning a project that will "document current conditions and future preservation needs, tracking and reporting intentional damage and destruction to cultural heritage sites in Syria." I hope it goes further than that — providing the technical expertise necessary.
Photo Credit: Courtesy of the Times of London