About 70% of the ancient walled city of Aleppo, Syria is now "destroyed or severely damaged by the war" and, according to an article in Saturday's Wall Street Journal, curators and others there are working hard to make sure the same fate does not meet the Aleppo National Museum — which has some problems already, of course.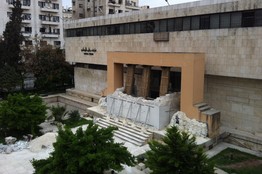 The WSJ's story in behind the paywall (here's the link anyway), so let me provide a few highlights (or lowlights, more accurately):
In the courtyard, a massive basalt stone lion from Arslan Tash—the site of an Iron Age kingdom east of Aleppo conquered by the Assyrians in the 9th century B.C.—is now almost completely covered with bags filled with sand and pebbles to protect it from mortars and rockets that often crash into the museum's courtyard.

Nearby statues of goddesses, kings and warriors are similarly cocooned and camouflaged or completely entombed inside freshly made concrete blocks.

Exhibition halls are bare and glass display cases empty, covered in thick layers of dust. Artifacts like the prized second millennium B.C. cuneiform tablets from the ancient city of Mari have either been locked in the basement or shipped to the capital, Damascus.

Two of the museum's curators and some of the guards and their families now live and sleep at the museum.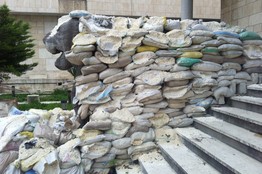 Curator Ammar Kannawi says they need technical support and expertise from Western experts who helped in previous conflicts, like Lebanon and Iraq. Another plea:  "Why are we being left to plunge this low? Our identity is being erased," said Nazir Awad, a Ministry of Culture official, breaking down in tears.
The story says that little has been done by the international community despite a UNESCO initiative launched in August 2013 because there has been little access to the sites. As a result, "looted and smuggled Syrian artifacts now regularly surface in the West."
Photo Credits: Courtesy of the WSJ