This time, the basement is in Honolulu, not New Haven or Brooklyn or Denver.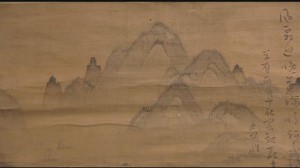 According to KITV, the Honolulu Museum of  Art made a discovery when a group of Korean art historians were looking at uncatalogued art works in a vault. They found a Korean ink painting on silk, dating back to 1586.
They said this is very important. That's when we knew we came across something special when that happened," recalled [Shawn] Eichman, [the museum's curator]….

We found the one that is the gem among gems," said Eichman. "Ten years after painting [was made] the peninsula was invaded by Japan, who destroyed everything they found. To be able to find anything before invasion is a huge discovery….It's hands down the most valuable in our Korean collection."
The museum acquired the work (detail above) in 2003 when it purchased more than 3,000 items from Asian art collector Richard Lane for $26,000.
Eichman didn't say what the discovered work is worth, but said the collection is now "easily worth millions," the network said. And who knows what else is in the trove?
Photo Credit: Courtesy of the Honolulu Museum of Art