Late last week, the Yale University Art Gallery revealed a stunning development: It has found a Velazquez in its closet.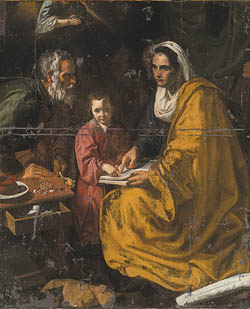 The painting, named The Education of the Virgin, at left, depicts the Virgin Mary learning to read — a fascinating image in its own right, and more so now that it is said to be Velazquez. It was executed in 1617, when he was only 18. It would certainly be among the earliest known works by him.
According to the Yale Gallery's press office, John Marciari, the former associate curator of early European art at the Yale Gallery, and now the curator of European art at the San Diego Museum of Art, found it in storage and has written about his discovery in Ars Magazine, published last week.
The work was given to Yale in 1925 by two brothers from New Haven, Ct. — Henry Hotchkiss Townshend and his brother, Raynham Townshend.
But it was in poor condition, damaged by water, and relegated to storage, undisplayed. As Yale began to review its collection in preparation for a new display, Lawrence Kanter, the curator of European Art, and Marciari, also in the department, were struck by it. Marciari studied the work, knew within months that it was a Velazquez, and spent six years doing research, both technical and in provenance, to prove it. X-rays support his conclusion. Experts at the Prado, in Madrid, "have so far reserved judgment, though they are also in the process of examining the work," an article in the Yale Daily News says.
Yale plans to restore the painting, and put it on display in 2012.
Bloomberg also has the story, with more details and interviews with Kanter and Marciari.
Photo Credit: Courtesy Yale University Art Gallery