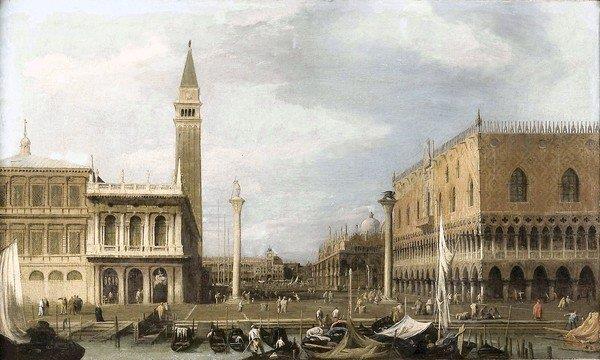 I wish I had closets like this. The news recently emerged from Denver that Timothy Standring, the curator who organized Becoming van Gogh, was rummaging around in the museum's storage bins a while ago and pulled out not a plum but a Canaletto. As related last week in the Los Angeles Times:
It all started in 2000 (actually a couple centuries earlier, but that's getting ahead of the story) when a canvas in dreadful condition called "Venice: The Molo from the Bacino di S. Marco" was bequeathed to the Denver Art Museum from a deceased local collector's foundation.

The accompanying paperwork was vague and referred to it as "from the studio" of Giovanni Antonio Canal — known as Canaletto — an important Italian painter in the mid-1700s.

Because it was assumed to be a student rendering, the painting was relegated to storage. And obscurity.

Seven years later, Timothy Standring, curator of painting and sculpture at the Denver museum, ran across the piece while doing routine inventory. It was so discolored and coated in grime, he later joked, it looked as if it had been "in someone's home who smoked Marlboros for 50 years."
Still, he saw something in it, that prompted an investigation — though there was no record of this painting. He showed it to "Charles Beddington, one of the world's foremost Canaletto scholars," who authenticated it — pronouncing it "one of the artist's earliest undocumented works," from 1724. Now cleaned and conserved, it's on view at the museum.
In July, 2010, I wrote here about the Yale Art Gallery, where former curator John Marciari, had discovered a painting by Velasquez, named The Education of the Virgin, in a closet. It has been given to the museum in 1925, but being poor condition and damaged by water, it was sent to storage, and remained undisplayed until Marciari, as part of a review of the collection in 2004, discovered it — he studied it, identified it, and published it as a Velasquez.
Less than a year later, the Brooklyn Museum announced that a painting that had entered its collection as a bequest in 1932 as an early self-portrait by Gerrit Dou, which was later downgraded, had been rediscovered in storage and actually was a Dou. Richard Aste, the museum's curator of European art, had also begun a review of his department's holdings. Fascinated by the little portrait, Aste decided to investigate and his suspicions were confirmed by other experts.
I know it takes time and a lot of effort to review collections, and some museums are doing it (here's one example). But stories like these always make me wonder what other gold is there in those storage bins?
Photo Credit: Courtesy of the Denver Art Museum