People on the coasts, especially the East coast, are spoiled when it comes to the art they can see. During the summer, I was astonished to learn from Timothy J. Standring (pictured), a curator at the Denver Art Museum whom I have known for years, that his mile-high city has never been home to exhibition focused on Vincent van Gogh. Of course, the museum had mounted exhibitions with a van Gogh or two — but never one centered on this most revered and popular artist.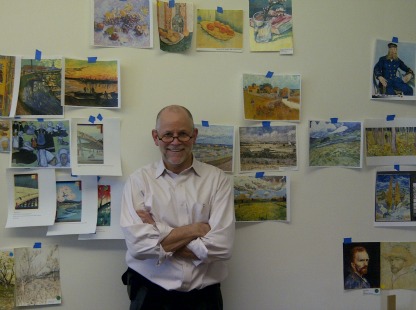 Standring told me about his efforts to remedy that, with the result being an exhibition set to open on Oct. 21 titled Becoming van Gogh. It includes nearly 70 paintings and drawings by van Gogh and 20 by other artists, like William-Adolphe Bouguereau, Sir Hubert von Herkomer, Jules Dupre and Emile Bernard, that van Gogh studied.
In organizing, Standring had a big handicap: the Denver museum doesn't own a single work by van Gogh. He had to borrow everything. It was not an easy feat, and I lay out more about the challenges and how he overcame them in an article in tomorrow's Wall Street Journal titled Becoming van Gogh: A Show Built Stroke by Stroke.
Yet one of the best things about this exhibition is its theme: far from being a greatest hits, it unfolds a theme that has not been explored here in depth before. "We wanted to draw away from the focus on his craziness and instead focus on his internal process of artistic decisions," Standring says.
Or, as the press release put it:
By focusing on the stages of Van Gogh's artistic development, Becoming Van Gogh illustrates the artist's initial foray into mastering draftsmanship, understanding the limitations and challenges of materials and techniques, learning to incorporate color theory and folding a myriad of influences, including the work of other artists, into his artistic vocabulary. No other exhibition has focused so intensely on Van Gogh's personal growth and progression as he developed his own personal style.
Along the way, people doubted that Standring could pull this off — even his own museum directors and, at some points, the Van Gogh Museum, which pretty much has to approve all van Gogh exhibits. But it cooperated with Denver, providing curatorial assistance, despite the long odds, because part of its mission it to take van Gogh to places where he is not well known.
The show won't, can't, travel — it's in Denver only. That's another reason why, aside from the curators' scholarship and creativity, this exhibit, well, exhibits the good fellowship that is evident among many European painting curators. I know some of them went to bat for Standring.
That's it for tonight, but I will return to this show — there's another reason why it's notable.
Photo Credit: Courtesy of the Denver Art Museum