Most of you, I'm guessing, did not travel to London to see Leonardo da Vinci: Painter at the Court of Milan at the National Gallery (which I've written about here and here). Neither did I.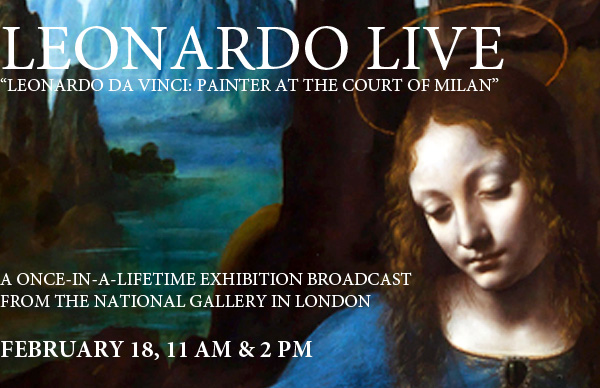 So I was very curious to see Leonardo Live, in HD, the movie version. It was simulcast live to movie theaters in the U.K.on the night of the exhibition's opening, and now it is being shown here in the U.S. and in other countries, mainly last Thursday. But I went to a showing at NYU on Tuesday night, where my friend Robert Simon, the dealer who has been involved with the newly attributed Leonardo, Salvator Mundi, representing the owners, made a little news. More about which in a minute.
First the movie: it's worth seeing, but it is flawed. On the pro side, it explains how the exhibition came to together, a bit about the conservation of the National Gallery's Madonna of the Rocks, including how the chief framer purchased a new period frame in Italy and made up the missing pieces, and gives a pretty good tour of the galleries, along with background on each painting and on Leonardo himself. That was a scripted in advance.
On the negative side is almost all the unscripted material. The two anchors, especially during impromptu interviews, try to whip up excitement in a way that rings false. Their questions are often insipid, frequently trying to plumb whether Leonardo's works are "relevant" today. (I will refrain from being sarcastic about that.) The producers' choice of interviewees — with the exception of curator Luke Syson, art historian Evelyn Welch and and the aforementioned conservator (Larry Keith), chief framer and perhaps one or two others — is dreadful. How could there be many more? There are — one for each painting and the Burlington Cartoon. There's an Anglican bishop, who calls the artist "da Vinci," a composer or two, an actress… etc. They are mostly uninformative, at best.
Should you see it? Probably.  (Here's a little preview.)
There've been hints that producers, eying the success of Metropolitan Opera simulcasts, want to do more of these for once-in-a-lifetime exhibits. But should future producers in this genre do it differently? Also yes. It seems the makers this time were afraid to have too many "experts," lest they turn off ordinary people. But none of the experts in this movie — except Charles Nicholl, one of Leonardo's biographers — spoke in high falutin' language. Nicholl's final statement, or rather the face he made at the end, was greeted with laughter on Tuesday night. People can see through his condescension.
Now to the news: Simon was interviewed in a Q&A after the viewing, and one member of the audience asked whether we New Yorkers will have a chance to see Salvator Mundi.  Simon didn't promise, but he essentially said he's talking with… he didn't say.
But Luke Syson, the exhibition's curator, has moved to the Metropolitan Museum* from London. My betting is that's where it would go.
Photo credit: Leonardo Live
*I consult to a foundation that supports the Met