The National Gallery's great Leonardo exhibition, entitled Leonardo da Vinci:Painter at the Court of Milan, opened last week, and what an occasion it was. For the first time in 500 years, nine of his paintings are being shown together, along with many drawings. There are 90 works in all.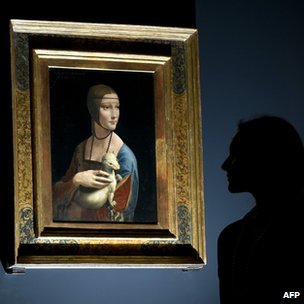 And here's another first, I believe: People who could not get into the opening — which means almost everyone, because this ticket was hotter than tickets to the Super Bowl — were able to watch it at the cinema. That's right, an art opening — not the Metropolitan Opera — merited live coverage, transmitted to movie theaters. How extraordinary.
I couldn't get to London either, so I searched for coverage in the UK, and found several stories, with videos, on the BBC website, which I am happy to share here:
1) About the opening/live coverage, courtesy of SkyArts here.
2) An overview of the exhibition here.
3) "How long do you need to look at a Leonardo?" here, which is really about Leonardo's technique and achievement. There are two videos on this link, though one is the same as the overview in #2.
4) Oxford University professor Martin Kemp describes why Da Vinci's works are so engaging here, and chooses not the greatest but the painting he'd like to live with (which coincides with my favorite).
5) A slideshow of the paintings here.
6) A Q&A about the staging of the exhibition here.
Each video is less than four minutes, and well worth watching.
NG Curator Luke Syson deserves congratulations for pulling this off, with lots of help of you. But he dreamed big — and let's have more of tha when he moves to the Metropolitan Museum in January, replacing Ian Wardropper, who is now director of the Frick Collection. Syson will be of European sculpture and decorative arts. He also deserves credit for, despite the demand to see these paintings, rationing tickets to only the number of people who can reasonably expect to see the works.
Unfortunately, the word is that the exhibit is now sold out through the end of the year. It closes on Feb. 5.
Photo Credit: Courtesy of AFP