The art world's show of the fall season promises to be in London, at the National Gallery: Leonardo da Vinci, The Painter at the Court of Milan. (Extra points from me for choosing, as its poster picture, one of my all-time favorite paintings, Lady With an Ermine.)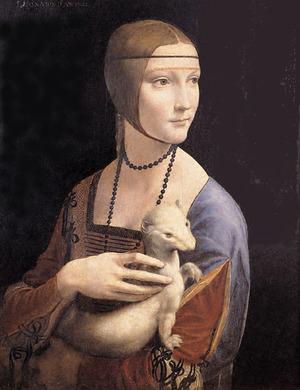 But while the exhibit — seven or eight paintings, plus about 50 drawings — doesn't even open until November 9, it is already causing problems. Yesterday, things got worse.
The NG knows that Leonardo will be popular, so popular that tickets — costing £16.00 (or about $25) at full price — went on sale on May 10, and along with that the National Gallery took the extraordinary step of reducing the number of slots available. As The Independent reported at the time, some people who viewed the Tate Modern's Gauguin: Maker of Myth (which closed in January) were really angry because they could barely see the pictures amidst the crowds. Trying to avoid what people called "gallery rage," the National Gallery is rationing the number of timed tickets: Rules allow 230 entrances per half-hour, but it will sell only 180 per half-hour.
As Luke Syson, the curator, explained it, "Essentially, we felt very strongly that the fewer people who will see the exhibition will have a better experience. It's about having time to be contemplative. It will be crowded, but it won't be overcrowded. We felt that although there was a sacrifice involved, these pictures are unlikely to be seen together again."
Admirable goal but, to me, only a partial solution. It's great to limit the number of people in the exhibit, but then we need to extend hours. For this show, the NG is doing some of that — the exhibit is open 10 a.m. to 6 p.m., daily, till 7 p.m. on Sundays, and till 10 p,m. on Fridays and Saturdays. Plus, if I have counted correctly, there are 10 other days when closing time will be 10 p.m.
Normal hours are 10 a.m. to 6 p.m. daily, and until 9 p.m. on Fridays.
But this show is a once-in-a-lifetime occasion. I'd like to see it open earlier and later, as demand demands — most tickets, afterall, will be sold in advance. Some exhibits have had round-the-clock access, at least for the last days. Maybe that will still happen.
Another accommodation, btw: the opening will be broadcast live.
Why did it get worse yesterday? ARTNews broke a story that has been percolating among some reporters (including myself) about a "found" Leonardo — a picture of Christ once owned by Charles I. This is the painting that caused a brief stir some months ago, when the Washington Post said that it was at the Museum of Fine Arts in Boston (which was true).
This work will be in the National Gallery exhibition, I am told, and that announcement will come this summer — causing more clamor to get in among the public.
I'm posting the link to the ARTNews article, although I believe that it is neither complete nor 100% accurate, based on my own incomplete reporting. The Illustration, I'm told, is also out of date — the work, has been conserved (again), and some of the previous damage caused by restoration and overpainting has been reversed.