New Year's Day–most of the musicians of Opera Lafayette have played our New Year's Eve gig (Strauss waltzes?), or have spent the night with friends at parties toasting in the New Year, or as I, have chosen to spend the evening and morning alone with loved ones, husbands and wives, lovers, children, dogs and cats. Yet, on our music desks, all of us have the score or our part to Le Roi et Le Fermier, an opera by Pierre-Alexandre Monsigny that will bring us to the Kennedy Center in Washington DC, the Rose Theater in New York City, and finally, the Royal Opera at Versailles in early February. Our project is to bring this exciting work back to life.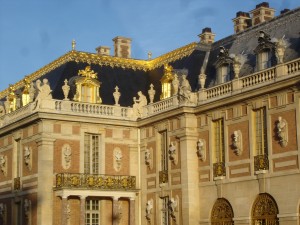 Everyone of us, even those who have never been there, has a relationship with Versailles. We play and adore the music generated for and from this palace. Versailles is a lost city unlike any other. Even at its most joyful, the art and music from this court is melancholy, reminding us that all joy is temporary, fleeting, fragile. At most tragic, the music is noble and restrained, because even misery and loss must be expressed through ideal classical beauty and courtly poise. There is no music more difficult to love and no music, once loved, more difficult to forget.
The Opera Theater at Versailles, not nearly as old as the palace, was built for the marriage of Marie Antoinette and Louis XVI in 1770, one of the last celebrations before the downfall of the old regime. But it is a masterwork of architecture, decoration, acoustics, and stagecraft. It is as beautiful a space and as important an accomplishment as the Hall of Mirrors or the Gardens. And it was built for what we do, for making and enjoying opera. Playing there is a thrill and an honor.
Over the next 6 weeks of entries I will accompany you through the preparations, travels with the orchestra, the singers, the director and the conductor. I will share with you the details of phrasing, the travails of traveling, and the goofiness that exists in the pit while working on a project. I'll also include a few entries about the music and the three theaters in which we will perform.
I have a rich and highly charged personal relationship with Versailles—my first love began in the gardens. I return often. I've played the harpsichord after hours in a grand salon overlooking the fountains at sunset. My first visit to the castle included a visit to the Opera and then a walk through the gardens. This was on December 24th, 1969 when the wind was moaning through the treetops, the clouds were low, and all the white statues, gods and goddesses, naked and lonely, seemed chilled to the stone and petrified by winter, waiting for the arrival of Spring and groups of courtiers to return and bring them back to life.