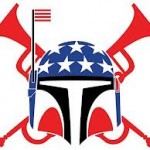 It all began with a public art tour of Denver. I took the tour the weekend before last, thinking it would be a useful thing to do for an arts editor who's new in town.
The tour guide, Rudi Cerri, is Denver's Public Art Administrator. As I found out during the course of conversation in between tour stops on our genteel stroll through downtown Denver on a quiet Sunday morning, Rudi is also a trumpeter with Boba Fett and the Americans.
Less than a week later, I found myself playing oboe in a gig with Rudi and his crew. It was one of the most standout cultural adventures of my life to date.
It's hard to explain what BFATA is and does. The closest I can get is to describe the outfit of assorted musicians — most of them brass players and percussionists — as a kamikaze Star Wars- / star-spangled-banner-themed marching band. The group was founded a few years ago by Shawn King, a multi-instrumentalist member of DeVotchKa,the darling musical ensemble of the indie movie scene. (DeVotchKa scored Little Miss Sunshine among other projects.) According to Rudi, BFATA presents a way for serious musicians like Shawn, who was on tour so not present for last weekend's gig, to have unbridled fun and make a little musical mischief with no commercial strings attached.
The band's schtick is to maraud around town dressed in thrift store red, white and blue, and swoop down on mostly unsuspecting music venues, bars, private parties and random public spaces with extremely loud and utterly funky renditions of singable and danceable pop covers like "Push It," "Tricky" and "Bust a Move."
The day after the public art tour, Rudi sent me the following email:
If you were serious about coming out for a night and joining in the mayhem that is Boba Fett and the Americans, the rest of the band would be more than happy to welcome you. We don't play much these days but are set to go out this Saturday, our main hit for the night will be the Ogden Theater,  but we will  be crashing a few more places along the way. If you are free and are interested, let me know and I'll put you in contact with Joe Grobelny, our "manager", and amazing trombone player on the details for the evening. The band is all about having fun and making people happy.  If you do come out, wear something, red, white, and blue.
How could I say no to that?
We pitched up at the studio of visual artist Patrick Marold, where the band habitually rehearses, at around 7.30pm. I was wearing a red, white and blue dress that I hardly ever have occasion to wear but that was perfect for the occasion. I had a white felt fedora on my head and white cowboy boots on my feet. With the addition of the oboe, I probably looked entirely silly. Rudi had run some City of Denver art-making workshop that day and was wearing pants and a t-shirt that had been customized with various stars and stripes in regulation colors by someone at his workshop.
Around 10 musicians gradually assembled, dressed in various bits of star-spangled hilarity and wielding sousaphones, saxophones, trumpets, trombones and drums. The leader of the band, a mild-mannered chap named Ethan, rapped song lyrics and other stuff into a megaphone and wore a red super hero costume complete with cape and Boba Fett mask. I hear that the cape gets occasional solos when the group goes out gigging.
The sound of the band is ear-splitting but euphoric. I couldn't hear a single note I was playing on my puny oboe. I was no match for the percussion and brass. But I was in a state of ecstasy improvising along with hits like "Billie Jean". Oboists rarely have so much fun.
When we finally left Patrick's studio in a convoy of cars (the band's van was out of commission) things got more interesting. We started off the night at around nine-ish crashing a massive rock gig at The Ogden Theater, a venue with a capacity of 1,500 and which was packed. We ran in for about 10 minutes while the roadies were changing the stage between appearances by the  the groups Hearts of Palm and Yellow Second, and played a bunch of songs.
The crowd was dancing and whooping centimeters from my face. I had been told to "look after my horn" by several band members before we went out. I realized that they weren't joking about the rowdiness levels and wished that I had a plastic oboe to use on these kinds of occasions, instead of my precious Howarth. I was a little scared for my instrument as we were doing our stuff right in the middle of the mosh pit. It was brilliant. And then suddenly we were done and dashed out as fast as we had dashed in. It was like a musical hit and run.
The next stop, at around 10.30 was a 30th birthday party at Dazzle, Denver's premiere jazz club. Again, a very appreciative crowd. After we played our short set and were chilling outside the venue, someone came out and asked us if "we accepted small tips." The guys gave us a hundred dollar bill.
After that, we sped over to The Highlands and played some songs for people hanging out at the Forest Room 5 bar. The bar was super busy and happy. I played the oboe from a wooden perch a few feet above the rest of the crowd. I felt like a songbird in a branch, even though no one could hear a thing I was playing.
At around midnight, we pitched up at the Little Man ice-cream parlor and played a random bunch of tunes for the people in the long line awaiting treats at the Denver frozen dessert icon. There were a bunch of cops waiting in line too at the time. They didn't seem too thrilled at the amount of hubbub we were creating. We must have broken all kinds of noise ordinance laws. But they let us play anyway. And the people loved it. They danced and sang along and said thank you afterwards.
The night culminated with us blowing our entire $100 tip on ice cream. It was the perfect end to a perfect evening. I hope BFATA will have me back. Shouldn't every marching band include an oboe?