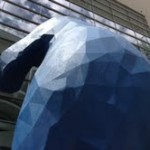 I took a public art walking tour around Denver recently. The stuff is everywhere. I only saw a tiny fraction of the 350-plus pieces that the City of Denver has sponsored thanks to a special fund that allocates one percent of the cost of all public construction projects to art. And I'm now on an active lookout for more such encounters as I make my way around town.
The city has some iconic pieces, such as Lawrence Argent's famous "I See What You Mean" (aka "The Blue Bear"), pictured here in butt view, that peers through the glass of the Convention Center, and the fiberglass and steel "Dancers" by Jonathan Borofsky, which can be seen grooving to a recorded soundtrack outside the Denver Performing Arts Center Complex.
What's most interesting to me, though, are the pieces that go beyond the standard public art terrain of monolithic sculptures and WPA murals. On the two-hour walking tour I took with Denver Public Art Administrator Rudi Cerri, there were quite a few examples of pieces that go beyond the usual fare, helping to redefine the definition of what public art is and should be.
The city has commissioned several playful pieces from the sound artist Jim Green. These include "Soundwalk", a series of recorded sounds like a dog barking and gurgling water installed under the ventilation grates of a sidewalk in downtown Denver, and the "Laughing Escalator," which is what it's called, and can be found in the Colorado Convention Center. These "humanized machines" catch the passerby unawares. They also make us pay attention to things we don't normally pay attention to in our surroundings.
Some of the non-visual art offerings are performance-based and every bit as fleeting, which is strange to wrap your head around as most people tend to associate public art with permanence. I was intrigued to hear about Patrick Marold's "Virga," a light sculpture for which the City of Denver commissioned composer Morton Waller to write a 13-minute work for bagpipe ensemble built on a non-conventional scale. I went online to watch footage of the performance on Vimeo. Wish I could have been there in person.
Cerri is interested in continuing to explore more unconventional forms of public art, including live performances. I am looking forward to seeing what transpires on that front.
Of course, this opening up of the definition of "public art" begs many questions. One of the things that I'm intrigued by is what differentiates this "public art" from the "public art" created by the graffiti artist who paints a beautiful mural on the underside of a bridge, or the musician who performs a set in an urban park. It's all public and it's all art. The main difference is that one form is sanctioned and paid for — and the other isn't.
PS I paid a visit to the Western Arts Federation (WESTAF) yesterday — a think tank based in Denver that fosters a bunch of interesting arts-related research studies, creates development programs for artists and builds software solutions for cultural institutions.  One of the cool projects they're working on is The Public Art Archive, a repository for public art collections around the country. The Archive can be found online here.