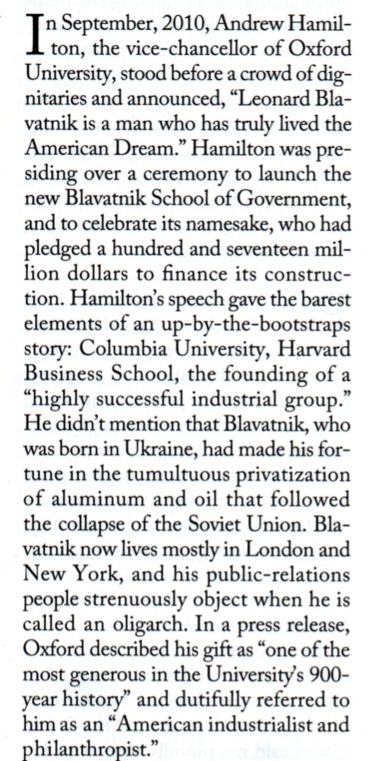 The lede graf of Connie Bruck's story in the current New Yorker about the Ukraine-born billionaire Leonard Blavatnik caught my eye. Although her profile "The Billionaire's Playlist" focuses on "how an oligarch got into the American music business," the lede has plenty to say about the awful state of affairs at Oxford University.
Knowing how the poet Heathcote Williams, who lives in Oxford, feels about the university he once attended, I sent him Bruck's lede. His reply was swift, pointing out that there has been a local protest campaign "to prevent an oligarch who's made millions from polluting industries setting up a 'business school' in Walton Street (doubtless to promote more polluting businesses)."
Williams went on to say:
Blavatnik's design for Walton Street is hideous — it looks like a collapsed marshmallow — and it will darken an important pre-Raphaelite window in the old St Paul's Church which butts up against the proposed building. St Paul's Church is now a kind of bar-restaurant-cum-potential arts centre owned by someone called David Freud (grandson of). D. Freud is much exercised too by the monster Blavatnik. I'm afraid though (despite my speechifying, along with others, at a community meeting in St Barnabas Church and denouncing Blavatnik as robustly as I could), it's a fait accompli. The University is an old hooker past her sell-by date who trades on her past and hustles and welcomes handouts from anyone who wishes to aggrandize themselves with Oxford's cachet.