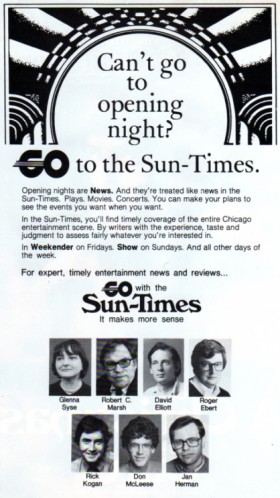 Rick Kogan has written a fine obituary, "A film critic with the soul of a poet," with a beautiful lede:
It was reviewing movies that made Roger Ebert as famous and wealthy as many of the stars who felt the sting or caress of his pen or were the recipients of his televised thumbs-up or thumbs-down judgments.

But in words and in life he displayed the soul of a poet whose passions and interests extended far beyond the darkened theaters where he spent so much of his professional life.
Kogan, at the Chicago Tribune for many years now, used to be a colleague of Roger's at the Chicago Sun-Times. Those were the days.
The NY Times paid Roger the rare tribute of a front-page obit, "A Critic for the Common Man." Here's the Sun-Times obit, with photos. Other tributes are pouring in, like this one from Roger Simon, as well they should — most of all, per Terry Teachout, for "carrying himself to the very end with a courage and dignity that were admirable in every way. We should all be so brave when our time comes."
Postscript: April 14 — Thanks to a tip from Jean Adelsman, an old friend and my former boss at the Sun-Times, here's another story about Roger that has nothing to do with the movies and everything to do with his classy personality. It's by Craig Klugman, the editor of The Journal Gazette in Fort Wayne, Indiana, another former colleague of Roger's.