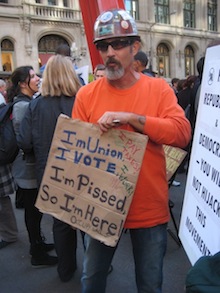 Apparently not. I didn't know it,
But Occupy Wall Street's most defining characteristics–its decentralized nature and its intensive process of participatory, consensus-based decision-making–are rooted in other precincts of academe and activism: in the scholarship of anarchism and, specifically, in an ethnography of central Madagascar.
Yes, really. But you knew that. If you didn't, then go read Dan Barrett in The Chronicle of Higher Education on the intellectual roots of the Wall Street protest.
Barrett writes:
It was on this island nation off the coast of Africa that David Graeber, one of the movement's early organizers, who has been called one of its main intellectual sources, spent 20 months between 1989 and 1991. He studied the people of Betafo, a community of descendants of nobles and of slaves, for his 2007 book, Lost People.

Betafo was "a place where the state picked up stakes and left," says Mr. Graeber, an ethnographer, anarchist, and reader in anthropology at the University of London's Goldsmiths campus.

In Betafo he observed what he called "consensus decision-making," where residents made choices in a direct, decentralized way, not through the apparatus of the state. "Basically, people were managing their own affairs autonomously," he says.

The process is what scholars of anarchism call "direct action." … He transplanted the lessons he learned in Madagascar to the globalism protests in the late 1990s in which he participated, and which some scholars say are the clearest antecedent, in spirit, to Occupy Wall Street.
I'm not sure I believe that. But then I'm not an academic.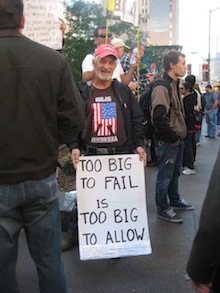 In any case, I went downtown to Zuccotti Park to see if it really is the equivalent of Madagascar. My staff of thousands shamed me into it. If intellectuals like Slavoj Zizek, Cornel West, Jeffrey Sachs, Joseph Stigliz, Frances Fox Piven, and Lawrence Lessig, could show their support for the protest, then the least a yahoo like me could do is put in an appearance and take a few snapshots.
The site certainly looked like an exercise in "democracy without a government." It was busy, crawling with participants, as well as onlookers like me. Everybody was up to something, or so it seemed, and none of the anarchists looked outraged or angry — not even the sign-carrier whose sign said "I'm union / I vote / I'm pissed / So I'm here" (is he a secret "Follies" fan?) or the guy I saw reading the Constitution out loud, word for word, like a well-mannered street corner preacher.
What I didn't see there were the 1 percenters, the ones that the economist Joseph E. Stiglitz, a Nobel laureate and professor at Columbia University, has described in Vanity Fair, of all places, as "the upper 1 percent of Americans [who] are now taking in nearly a quarter of the nation's income every year."
It's possible some were strolling around incognito on their lunch hour. But nobody was carrying issues of Vanity Fair, and I didn't see any copies of the magazine at the library stand. If 1 percenters were at Zuccotti Park, they definitely were not carrying signs and they certainly weren't wearing t-shirts like these. I didn't see the officer behind the skinny tie, either.
I did see a lot of excellent hand-drawn opinions, including a stylish flower-power throwback. Have a look at some more snapshots I took that give the flavor of Manhattan's Madagascar.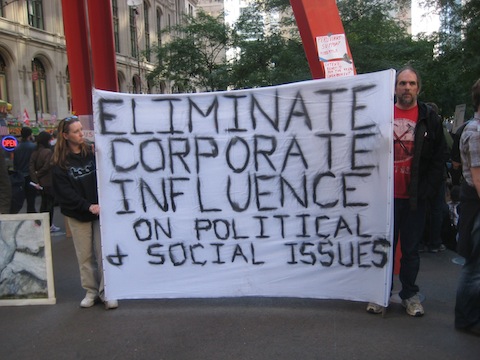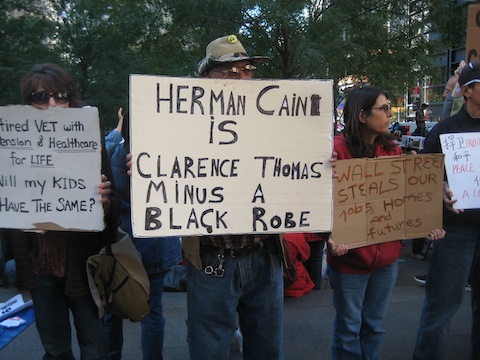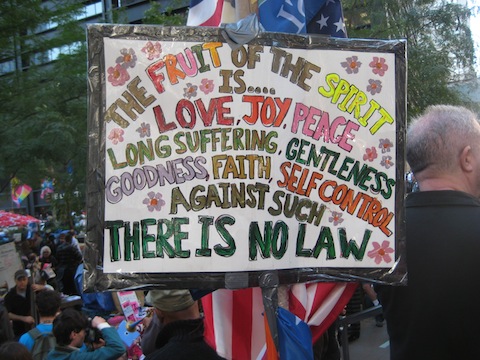 And here's a video of Harvard prof Lawrence Lessig that Barrett includes at the end of his article:

Postscript: Oct. 21 — Paul Krugman blogs that he visited Zuccotti Park yesterday:
Overall, what struck me was how non-threatening the thing is: a modest-sized, good-natured crowd, mostly young (it was a cold and windy evening) but with plenty of middle-aged people there, not all that scruffy. Hardly the sort of thing that one would expect to shake up the whole national debate. Yet it has — which can only mean one thing: the emperor was naked, and all it took was one honest voice to point it out. … Thank you, OWS.
By the way, here's the layout of the OWS encampment. Thank you, NYT.