The book that made William S. Burroughs famous and established his reputation as a writer of the blackest satire since Swift is to be celebrated on its 50th anniversary with readings, films, photographs, panel discussions, scholarly papers, and performances.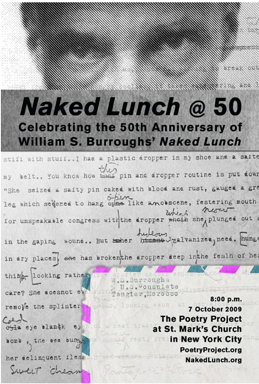 Four days of events in New York are to begin Oct. 7 at the Poetry Project at St. Mark's Church, on Manhattan's Lower East Side, and to continue at the Fales Library of New York University's Bobst Library on Oct. 8, The Rare Book & Manuscript Library of Columbia University's Butler Library on Oct. 9, and the Little Theater at the School of Visual Arts on Oct. 10.
An exhibit of paintings, works on paper, and "shotgun" paintings by Burroughs, who died in 1997 at 83, is also currently on view at the Stellan Holm Gallery. It continues through Oct. 31.
The New York celebration follows others already held in Paris; Lawrence, Kansas; Chicago; London; and Bristol, England. Another is scheduled in San Francisco, in November.
The homage at the Poetry Project — largely devoted to readings from Naked Lunch by friends, fans, and associates of the author — is to include a showing of Kate Simon's photo portraits of Burroughs and an excerpt of Andre Perkowski's montage film based on another Burroughs book, Nova Express. First-night participants are Eric Andersen, Victor Bockris, John Giorno, Jan Herman, Thurston Moore, Simon Pettet, Jürgen Ploog, Genesis Breyer P-Orridge, Anne Waldman, and Nick Zedd.

Here's the detailed lineup:
Eric Andersen, singer and songwriter. After emerging from Greenwich Village's folk scene in the early 1960s, Andersen went on to issue more than 25 albums including Beat Avenue (2003), whose 26-minute title track was a jazzy poem relating his experiences among San Francisco's beat community of artists on the day of President John F. Kennedy's assassination.
Victor Bockris, author and biographer. He has written about Lou Reed, Andy Warhol, Keith Richards, Terry Southern, Blondie, Patti Smith, and Muhammad Ali. His important book With William Burroughs: A Report from the Bunker transcribes conversations between Burroughs and a wide variety of prominent artists and writers.
John Giorno, poet and performance artist. He is the author of ten books, including You Got to Burn to Shine, Cancer in my Left Ball, Grasping at Emptiness, Suicide Sutra, and has produced 59 LPs, CDs, tapes, cassettes, videopaks and DVDs for Giorno Poetry Systems.
Jan Herman, writer and publisher. He edited the San Francisco Earthquake, a little magazine of the 1960s, and founded the Nova Broadcast Press, which published Beat, post-Beat and Fluxus writers, including William Burroughs. He cowrote Cut Up or Shut Up with Carl Weissner and Jürgen Ploog, collaborated with Burroughs and Antony Balch on a video, and edited Brion Gysin Let the Mice In. A former journalist, he is also the author of A Talent for Trouble, the biography of the Hollywood director William Wyler.
Thurston Moore, musician, singer, songwriter, and co-founder of Sonic Youth. He has participated in many solo and group collaborations outside of Sonic Youth, as well as running Ecstatic Peace! records. His latest solo album is Trees Outside the Academy (2007), and in 2009 Sonic Youth released The Eternal. In 2004 Rolling Stone ranked him among the greatest guitarists of all time.
Andre Perkowski, filmmaker. His montage film of William Burroughs' Nova Express, seven years in the making, had its debut to great acclaim at the recent Naked Lunch @ 50 homage in Paris.
Simon Pettet, poet. An English expatriate living on New York's Lower East Side, he is the author of many books, including Hearth, his latest collection of poems, and two collaborations with photographer-filmmaker Rudy Burckhardt. He also edited The Selected Art Writings of James Schuyler for Black Sparrow. Pettet's Selected Poems is available from Talisman House.
Jürgen Ploog, German writer and cut-up maestro. He is the author of many books including the collaboration (with Jan Herman and Carl Weissner) Cut Up or Shut Up, for which William Burroughs provided a "tickertape" introduction.
Genesis Breyer P-Orridge, English performer, musician, writer, and artist. He first gained notoriety for his work with COUM Transmissions and industrial band Throbbing Gristle, then moved on to chart-topping success with Psychic TV. After meeting Burroughs in 1971, P-Orridge produced the first commercial releases of Burroughs' cut-up tape experiments and was responsible for saving the films Burroughs created with Antony Balch.
Kate Simon, photographer. She has documented music, art, and literature with photographs that have become icons of modern popular culture: The Clash on the cover of the debut album, Debbie Harry on the roof of her apartment, Bob Marley by the pool, David Bowie in the studio, Led Zeppelin rehearsing, The Sex Pistols fighting, Miles Davis contemplating, Patti Smith on a rocking horse. For over twenty years she photographed William S. Burroughs, and her pictures grace many of his publications.
Anne Waldman, poet. She is the author of over 40 books of poetry including Kill or Cure, Marriage: A Sentence, Structure of the World Compared to a Bubble, and Manatee/Humanity (2009) (all published under the Penguin Poets imprint), as well as Fast Speaking Woman (City Lights) and the Iovis trilogy (Coffee House Press). She co-founded The Jack Kerouac School of Disembodied Poetics with Allen Ginsberg at Naropa University.
Nick Zedd, filmmaker and author. While producing the Underground Film Bulletin in the 1980s, he wrote the "Cinema of Transgression Manifesto," thus giving a name to the generation of filmmakers and artists known for shock tactics and black humor. He is the author of two books, Bleed and Totem of the Depraved.
Admission is $8 / $7 for students or seniors. (All proceeds benefit the Poetry Project at St. Mark's Church.) The Poetry Project is located in St. Mark's Church at 131 East 10th Street, New York. (Google map)
Postscript: Oct. 8 — Speaking at New York University's Fales Library, the German writer Jürgen Ploog talked about the legacy of Naked Lunch and his own fascination with Burroughs.