Malcolm Mc Neill's unpublished memoir about his longtime collaboration with William S. Burroughs, Observed While Falling, is just as spellbinding as the lost art of Ah POOK IS HERE, his current show at Salomon Arts (now extended through Jan. 16 ) in Manhattan. Mc Neill is one of those artists who can really write.
The memoir, which I've had the pleasure of reading, provides more than a lucid word portrait of Burroughs and what it was like to work with him. It is touching. Also clarifying. When it comes to Burroughs's ideas, I've never seen them put as well, except by le maître himself. Mc Neill can also be entertaining, and he's got an ear for dialogue.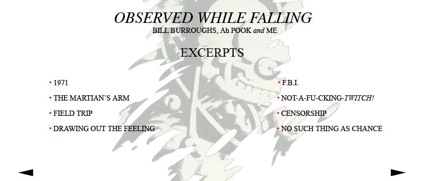 Here's a funny little scene from a chapter called
NOT-A-FU-cking-TWITCH!
…The money ran out in no time. There were days when I was flipping a coin to decide whether to buy milk for tea, or a pack of cigarettes. Inevitably I had to look for freelance work. It was my first New York summer and the apartment had no air conditioner. It also had no table. When I finally picked up illustrations for National Lampoon and Marvel Comics, I had to paint them resting on my knees. Bill suggested I work at the loft whenever I needed, and gave me a key.

He'd started a monthly column for Crawdaddy Magazine called Time of the Assassins and for a few months I also supplied illustrations for that.

I was at the loft one night finishing up one of them when he came home from a dinner party. He'd had a few drinks naturally. He came over and placed a piece of hash on the desk.

"Here! I got a present for you!"

"Well thanks Bill. I'll smoke it later."

"No man! It's not dope! It's aphrode-e-e-e-siac! Ted Morgan gave me a bunch of it. Got it down in South America. Says it really works."

"Great! I'll save it for a special occasion."

We talked about the picture for a while then he wandered off. Five minutes later I noticed it was very quiet. As I was packing up my stuff to leave I saw the back of his head on the other side of the kitchen counter. He still had his hat on. It wasn't moving.
I figured he'd fallen asleep in the chair so I crept over to wake him. When I came around the corner of the counter, I found him very much awake; sitting in his boxer shorts staring intently down at his crotch.

"Not-a-fu-cking-twitch!" he said.

© Malcolm Mc Neill 2008