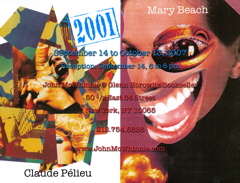 The posthumous show of collages by Mary Beach and Claude Pelieu — now at John McWhinnie@Glenn Horowitz Bookseller through Oct. 13 on Manhattan's Upper East Side — comes as something of a surprise. Their work is not high on the list of swank art collectors. Hell, I'd be surprised if it's on the list at all. And I don't think McWhinnie's appreciation will change that. As the former Newsweek art critic (and painter) Peter Plagens said to me about a Nelson Algren video I praised yesterday, "The trouble with being dead is you can't fight back against tributes people pay to you."
The show itself is eye-popping, however, and so is the gorgeously printed catalogue. Maybe that will bring on the collectors. I hope so. Of course, I'm partial to Mary and Claude. I knew them in San Francisco, back in the late '60s, when we created a little magazine together. They were doing collages then, too, though they weren't nearly as polished as these — not even close. It seems to me that by 2001, the year almost all the collages in this show were executed, they had fully absorbed the influence of Norman O. Mustill (who also collaborated on the magazine).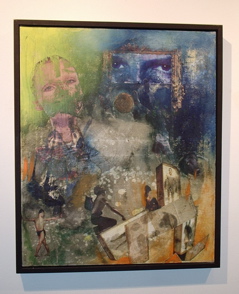 Mustill is not mentioned in McWhinnie's appreciation or in the catalogue or anywhere in the show itself. But I believe it was Mustill's work in the first place that turned Mary and Claude onto the method and style of the collages here. (They were so taken by his work that they commissioned an entire book of his collages. It was called "Flypaper," and they published it in 1967 under their Beach Books imprint.) So this show may be regarded as an unspoken homage to Mustill. He's the ghost in their machine.
This is not to say the furious accomplishment of the "2001" collages is not their own. Mary, who died in 2006, had already been a painter many years before meeting Mustill, and it's evident. Her collages, along with a handful of paintings also on exhibit (like the one above), are more freewheeling, less "designed" than Claude's. Claude, who died in 2002, was first and foremost a writer. A prolific one. He was large in everything he did. And this show, though it only scratches the surface of his output, indicates how prolific a collagist he became as well. And how proficient.
Speaking of prolific, proficient and accomplished . . . Ted Morgan, author of more than a dozen books — including biographies of Churchill, FDR, Somerset Maugham and, not least, William S. Burroughs — was at the show's Sept. 14 opening. (So were rockers Grant Hart and Thurston Moore, and poet-photographer Gerard Malanga.)
When he met Pelieu in 1970, in London, Morgan recalled, they used to swap stories about the French Army. Morgan had served as an intelligence officer in Algiers. (See his latest book, the memoir "My Battle of Algiers," a swift, informative and, despite the subject, entertaining read.) "Pelieu was an army deserter," he said. "Claude was full of funny stories. We laughed like crazy. "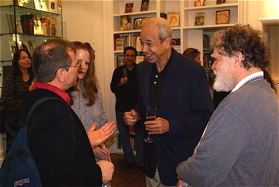 At the time, Morgan was staying in Brion Gysin's Duke Street apartment on a visit from Tangiers, where he'd been living since 1968 and where he'd first met Gysin and Burroughs through Paul Bowles. I asked him about Gysin, a special interest of mine.
"You know how Brion always hated government or any governing authority," Morgan said. "Well one day, probably through one of his friends, he was offered an apartment-cum-painter's-studio in Paris owned by the Ministry of Education. More or less against his principles, he agreed to take it. The hitch was that the education ministry was entitled to purchase whatever work he turned out while he lived there. So, whenever the ministry felt like it" — Morgan didn't say exactly how often, but it sounded like a regular affair — "Brion had to receive a ministry delegation who came to inspect his work." Morgan laughed. "And they never offered to buy a thing."
Did Morgan write the Burroughs biography "Literary Outlaw" as a change of pace from Churchill and FDR? "That's it exactly," he said. Burroughs, it turned out, was proud to be in their company. "He even boasted about it." Guilt by association, I guess.
As good a story teller in person as he is on the page, Morgan recounted how he searched through crates of the Burroughs archive before anyone else — it was purchased in 2006 by the New York Public Library's Berg Collection — and how he found a letter from his first wife warning Burroughs it would be a mistake to let Morgan write his biography. He laughed at the memory.
You'd think that at 75 — with all sorts of accolades to his credit, including a Pulitzer Prize for reporting — he'd be interested in taking it easy. Forget it. Morgan, who is tall, tan, modest and attractive, and who looks younger than his years, says he's working feverishly on a new book, "Dien Bien Phu: A Tragedy in Four Acts."
"It sounds like you're taking a run at Graham Greene," I told him. He laughed. "I've been to so many places," he said, "I could write a hundred books like that." Unlike his Algiers memoir, however, this one is not personal history. "I'm not that old," he said.
(Crossposted at HuffPo)