Been gone. Now back. Why gone? Flew out west to see an old friend and collaborator, Norman O. Mustill, in his desert hideaway. Hadn't seen him or his wife Norma in nearly 40 years. Here I am in their living room, leafing through a cherished item in his vast media collection — Bruce Bernard's "Century," a massive volume of photos from London's Sunday Times Magazine chronicling the years 1899 to 1999. The main point of interest, however, is the partial view of Mustill's large collage from the mid-1960s on the wall behind me. It's one of several I used to see decades ago on visits to his former home in northern California. And there he is — l'artiste lui-même — standing next to another of his large collages.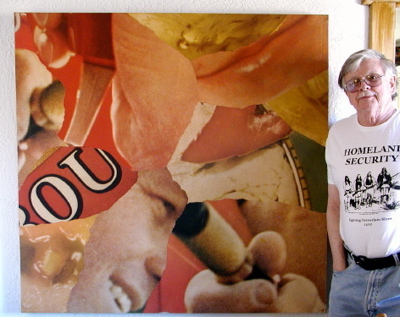 Care for a further taste of his fun & games?
Go to Down With Culture! Up With Barbarism!
and
Anthem for America
.