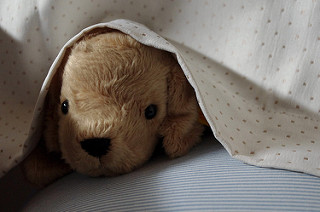 It's been a week since the election. I have spent the time (metaphorically) in the fetal position under the covers. I regret that I've not had the psychological energy to weigh in before; I'm now viscerally aware that with age comes a marked reduction in resilience. (Who knew?)
I will confess that one of my first impulses was to throw in the towel on my work attempting to better connect arts organizations with their communities. Even then, though, I knew that was a form of cowardice that I couldn't, ultimately, abide. It was Diane Ragsdale's reflection on our situation slapped me silly and began the process of getting me out of my funk:
We arts workers will need to let go of the notion upon which many nonprofit professional cultural organizations were founded: that we exist, essentially, to save the world with art (and, quite often, with Western European Bourgeois Art, specifically). Instead, it seems that our first charge is to live fully in our tragically divided country and participate fully in our tragically broken democracy. Fleeing physically, mentally, emotionally, or spiritually is to deny both our culpability and power to make a difference.
But her reminder of Paul Krugman's late-night election day post (that I did read live) is what is most affecting me now: "[P]eople like me, like most readers of the New York Times, truly didn't understand the country we live in." Like so many others, we didn't see it coming; and we didn't see it coming because 1) the reality of–as opposed to our fantasies about–suburban/exurban/rural life is invisible to us, 2) we have made little or no effort to learn about those communities, and/or 3) we don't truly value the experiences of those communities.
Yes, there are virulent racists and rabid misogynists who voted for the next president, but there are not 59+ million of them. Many of those voters chose to hold their noses and opt for support of values, vitally important to them, with which we passionately disagree or, like working class jobs, we've given little thought; but we also know that many Clinton voters held their noses to support equity, justice, and/or a historic possibility.
I am the grandson, nephew, and cousin of Iowa farmers, raised in that state in a town of about 25,000 people. If I, who came from that world, can lose sight of their experience, it's not surprising that so many of us were blindsided. BTW, if you want a good dose of humble pie, read "I am the rural uneducated person." (Try substituting "arts establishment" for "media" as you read it.)
Years ago, when Building Communities, Not Audiences was in the planning stages, I was invited to speak with a group of staff members at the National Endowment for the Arts. (I am indebted to Jamie Bennett for that incredible opportunity.) When I described the book's content, Joan Shigekawa, Sr. Deputy Chair of the Endowment, asked me, "But what about the disaffected middle class?" I knew I had been nailed because I was not specifically addressing that world in the book. I did a brief politician's dance of words around the topic and resolved to make sure I never lost sight of her question.
When I encourage arts organizations to build relationships with new communities, I'm always asked "What communities?" The pragmatic answer is to begin with those with which some relationship already exists. But it's true that the knee-jerk first thought–often encouraged by funders–is always some target community, often a community of color. I encourage broadening that thinking but it's true I've seldom (though not never) mentioned segments of the middle class. Going forward, I must do better in responding to Ms. Shigekawa's admonition.
I am seeing people referring to the arts as "weapons of mass inclusion" to be tapped at this moment in our history. That's a great sentiment. To live up to that description we must include, along with others, rural, suburban, and middle class communities in our planning. Thus far, we've not devoted enough of our time to this. There are, of course, shining exceptions. Let me point to Art of the Rural and Springboard for the Arts (because they are the ones I know best) as two among a goodly number that do support work that impacts rural and/or middle class lives.
And to be clear, we've not devoted nearly enough thought and energy to building relationships with any new community, but that's a much, much different discussion.
Ms. Ragsdale, at the conclusion of her election reflection exhorted us to ". . . walk out into our communities, with our senses wide open, and absorb 'the relations between one thing and another.'" I've been advocating that for years as the basis for community building. What I now see is that we need to be doing that not just in urban neighborhoods but also in suburbs, towns, and villages across the country. For the good of our communities and, frankly, for the viability of our industry, we must, collectively, learn from and work with all of them. We can be a powerful force for furthering understanding and for building unity if we do things to make us so.
(Get out from under the covers and) Engage!
Doug
Photo:
Some rights reserved by Laurelinde