WHAT's the most influential song in history? The Atlantic Monthly recently asked Ted Gioia for his answer, and he suggested this W.C. Handy classic, for all the blues songs it engendered, its enduring melody, and partly for its "Spanish tinge."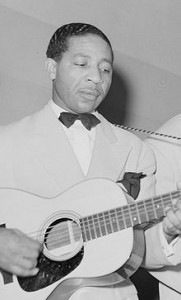 I don't think Ted, a longtime friend of CultureCrash, was thinking of this version; it's not especially well known. But guitarist Lonnie Johnson, who straddled blues and jazz and may have invented the guitar solo, is one of my favorite interpreters. His version, recorded during his comeback during the '60s folk-blues revival, starts in the song's middle section, and he plays up its Latin quality.
Anyway, here it is. I'll try to write more fully about Johnson another time. He deserves to be way better known.