FOR the next few weeks, we have an unusual and probably accidental correspondence: Two important but often unseen artists of Los Angeles' great 60s flowering are up at the LACMA. For admirers of John Altoon — one of the original Ferus Gallery bad boys — and Helen Pashgian, a pioneer of the Light and Space movement — it's a rare chance to see their work.
The Altoon show just opened over the weekend. Altoon was a jazz-loving Beat as well as a manic-depressive who spent time in Camarillo; as Hunter Drohojowska-Philp describes in Rebels in Paradise, the document of '60s LA art, he also pulled a knife on his dealer Irving Blum.
For those of us who know Altoon's reputation — his death at 43, in 1969, sent shock waves through the scene — his work is hard to make sense of at first. He was either trying on different styles, or so restless he was not interested in a single, fixed artistic identity. To my eye, he hit hist stride about halfway through the work in the LACMA show, as he drew from pop art (parodying advertising) and using sexual imagery that I cannot reproduce here. LA Times critic Christopher Knight frames him as one of the artists of the '60s sexual revolution. From his review:
Sex is also an obvious tool of mass-media commercial art, flooding late-20th century America, with which Altoon was well-versed. Several satirical works play with advertising motifs.

One shows a dapper young couple in a White Owl cigar ad: He smokes, she pouts. Rather than focus on a close-up as a conventional ad would, Altoon pulls back (like a reverse camera-zoom) to show the fashionable pair full-length: Both are stark naked below the waist. The cigar scene turns into an ad for post-coital relaxation.
I found the De Kooning-inspired abstract work less interesting. But anyone who follows the origins of Southern California's art scene should see this show.
Pashgian, similar, is someone who's talked about as part of the Light and Space crowd, but I'm not sure I'd ever seen an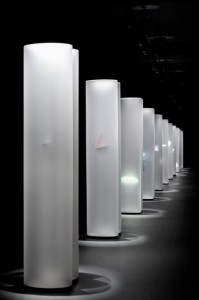 y of her work. One gallery in the LACMA's Art of the American's building is given over to a serene installation called Light Invisible (right),  in which she tries to conjure the distinctive quality if LA's light, here using 12 columns of molded acrylic. She's still alive, but keeps a low profile these days and refuses to reveal her age. See the installation before it's gone.
New at LACMA is a large show of French and German Expressionism, Van Gogh to Kandinsky. I spent a lot of time in this show — I especially liked the work by Kirchner and the Blue Rider artists — and could have easily taken twice as much time. Some of the French work is pretty familiar, but many of the German paintings were fresh and arresting.