Jim Collins' book, Good to Great, has been making the rounds in corporate America and in the social sector…defining the factors that differentiate competant organizations and leaders from exceptional ones. It's about focus, discipline, people, and the long view, as you might expect.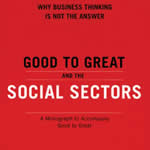 Of particular relevance to nonprofit managers, however, is the available monograph addendum to the book, focusing on the social sector (excerpts are available here, and TCG's Ben Cameron muses on some of the ideas here). It's a compelling read (and a quick one, at 35 pages long). Collins captures many of the core challenges of the sector and its structure, and offers specific steps for any leader or organization to move forward despite those challenges.
Within the text, he describes what "greatness" looks like for a social sector organization. And he uses language that I love. In his view, a great organization:
Delivers Superior Performance
In business, performance is defined by financial returns and achievement of corporate purpose. In the social sectors, performance is defined by results and efficiency in delivering on the social mission.

Makes a Distinctive Impact
The organization makes such a unique contribution to the communities it touches and does its work with such unadulterated excellence that if it were to disappear, it would leave a hole that could not be easily filled by any other institution on the planet.

Achieves Lasting Endurance
The organization can deliver exceptional results over a long period of time, beyond any single leader, great idea, market cycle, or well-funded program. When hit with setbacks, it bounces back even stronger than before.
Aspirational, I'll admit…even a bit sappy. But compared to the dry and distant language in most mission statements, it's downright poetic.
NOTE: You don't need to read Good to Great to benefit from the monograph. But you'll likely want to refer to the larger book for depth and detail on the key principals. So, spend the $8 on the monograph and then decide whether or not to buy the book.